Posts may contain affiliate links. Read our full disclosure policy here.
This Chocolate Chip Pumpkin Bread with Banana is the perfect fall twist to traditional banana bread. The seasonal flavors of pumpkin, cinnamon, and spice are prominent while the banana just adds a subtle sweetness. Banana also keeps the pumpkin bread nice and moist.
I love enjoying this Chocolate Chip Pumpkin Bread as a sweet treat after dinner and it is always a hit for family gatherings. My in-laws request that I bring this over during our game nights as soon as fall begins!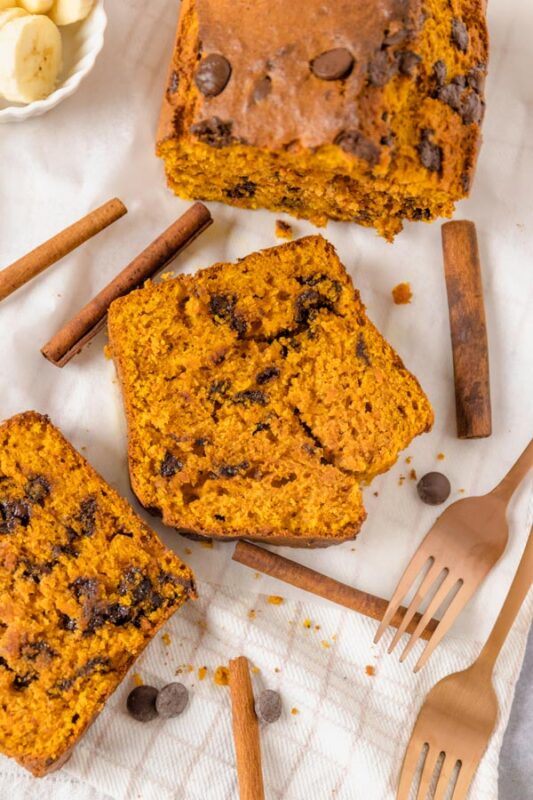 This is the best chocolate chip pumpkin bread with the fall flavors of cinnamon, ginger, and nutmeg. The addition of bananas makes this bread extra moist.
Canned or Homemade Pumpkin Puree
You may use canned or homemade pumpkin puree for this recipe. It is completely up to you and will not drastically change the flavor of the pumpkin bread. I love using homemade pumpkin puree, however, if you're short on time then don't hesitate to use canned.
Libby's Pumpkin Pure is the go-to recommendation as is the Walmart brand and Trader Joes.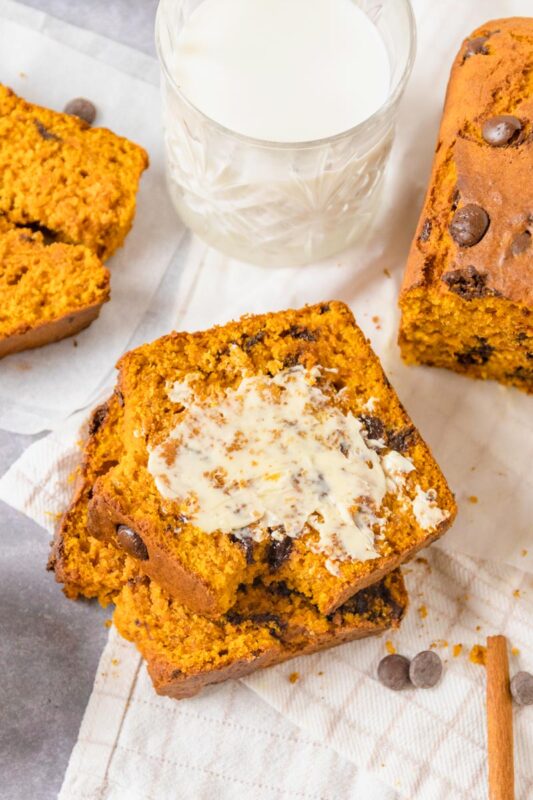 Pumpkin Puree Tips
Throughout the years I have discovered a special trick for using pumpkin puree in the can. Canned pumpkin puree can often be watered down. For this recipe, and any recipe using canned puree, follow this trick below.
place a cheese cloth over a medium bowl
pour your pumpkin puree over the cheese cloth
grab the ends of the cheese cloth so it is completely wrapped around the puree
squeeze out all of the access water into the bowl
use just the condensed pumpkin puree left inside the cheese cloth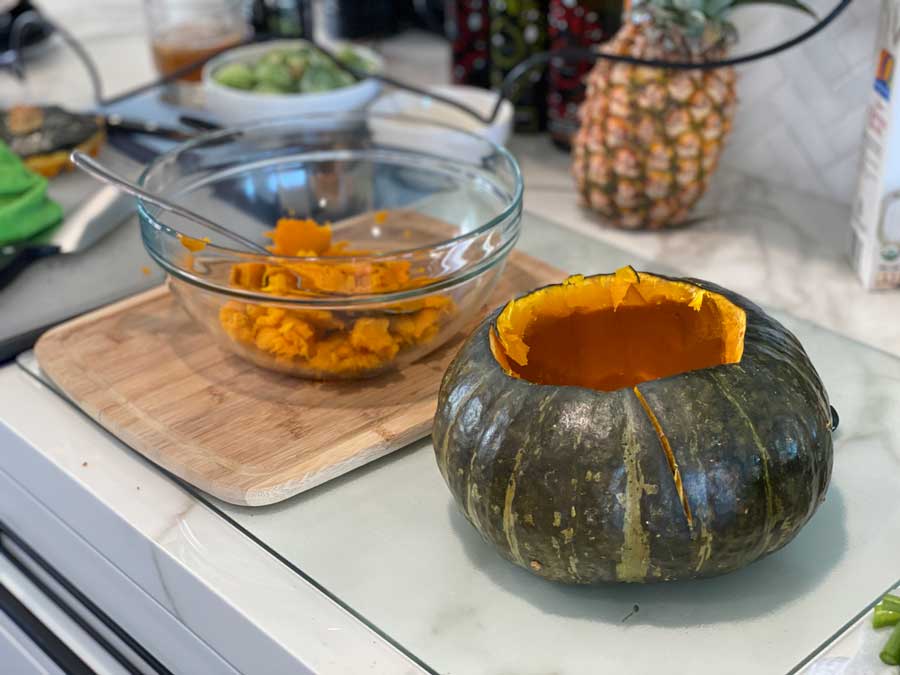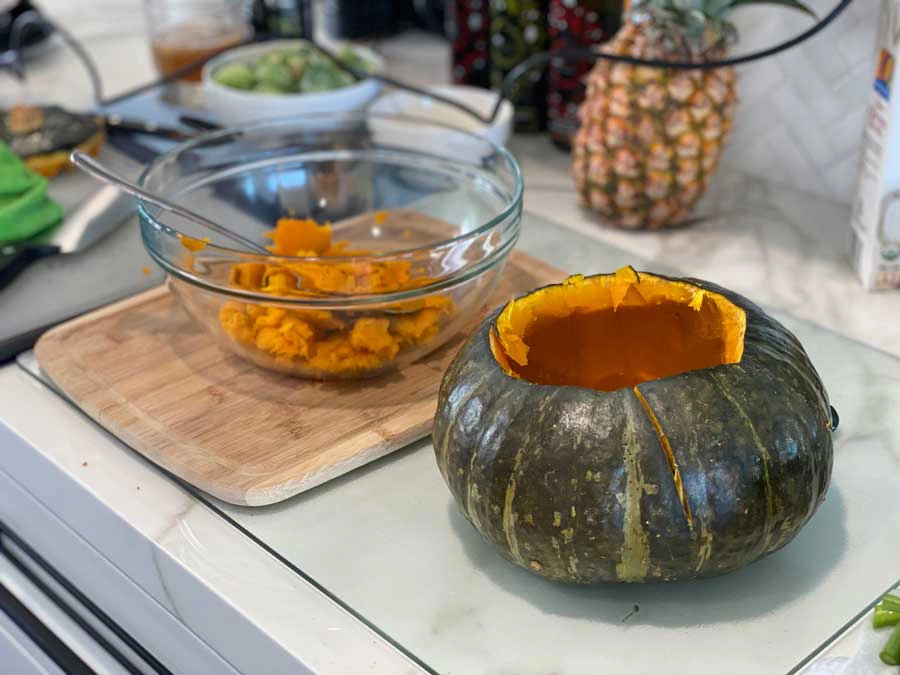 Best pumpkins for homemade pumpkin puree.
Each year, I make a batch of pumpkin puree at the beginning of the season and freeze it. Here's a secret. Never purchase the "Pumpkin Pie" pumpkins. They are NOT the best. Believe it or not, it's the heirloom pumpkins that make the best pies. Basically, pumpkins that look nothing like the typical pumpkins we use for carving.
Check out my article on The Best Pumpkins for Pies, Baking, and Cooking!
Each year my local nursery and Trader Joes, put out a variety of heirloom pumpkins. I grab a few early in the fall season, make my puree, and then freeze 1 cup serving in ziplock bags to use throughout the year.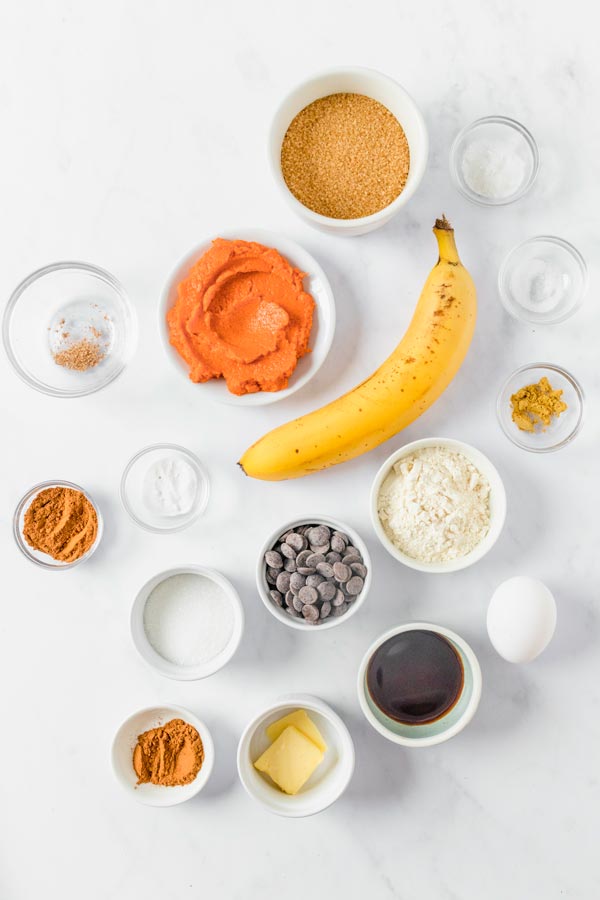 Ingredients 🎃
You'll find all of the seasonings and ingredients in the recipe card, but I do like to highlight important ingredients and tips in the article.
Cinnamon
Many seasonal recipes call for the use of cinnamon and I always recommend purchasing a quality ground cinnamon. You want to use a cinnamon that has a rich dark coloring. It is worth it to splurge on a more expensive cannimon spice which will result in better flavor and aroma.
Mashed Banana's
I have made this bread with and without mashed banana's. Making pumpkin bread with banana adds so much moisture and gives this bread a great texture. I add bananas to almost all of my sweet bread recipes because of this additional moisture. All of the various spices and ingredients mask the banana flavor so it is not prominent, but just adds a nice subtle sweetness.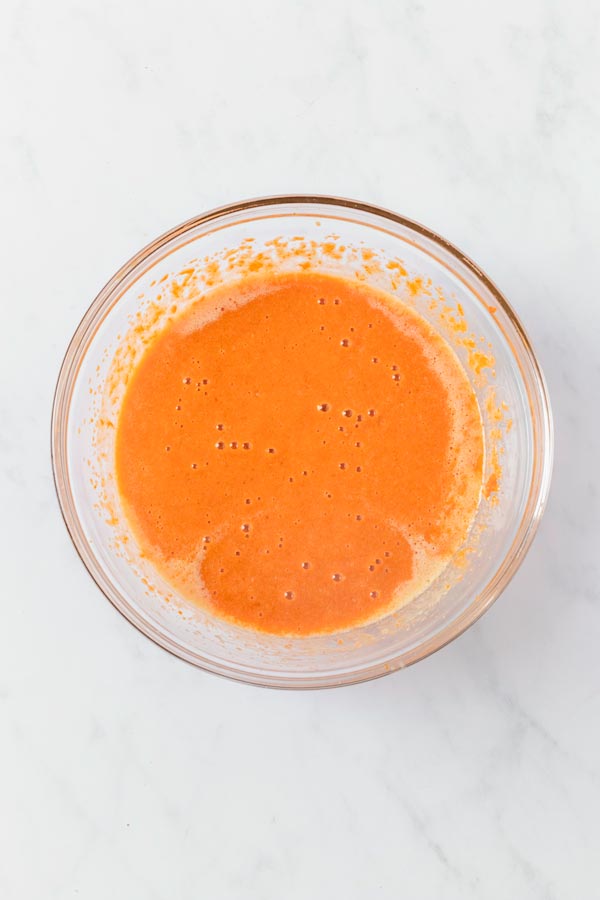 Instructions 📝
First, Preheat your oven to 350 F. Then beat the eggs with a mixer on low and add the butter, sugars, vanilla, mashed banana, and pumpkin puree. Continue mixing until combined.
Then, in a separate mixing bowl combine the dry ingredients and add them to the wet ingredients. Mix on low until everything is combined. Once combines, stir in the chocolate chips with a spatula. The batter should be soft, and sticky. You will have to spoon it into the tin. It does not have a  ''pourable'' texture.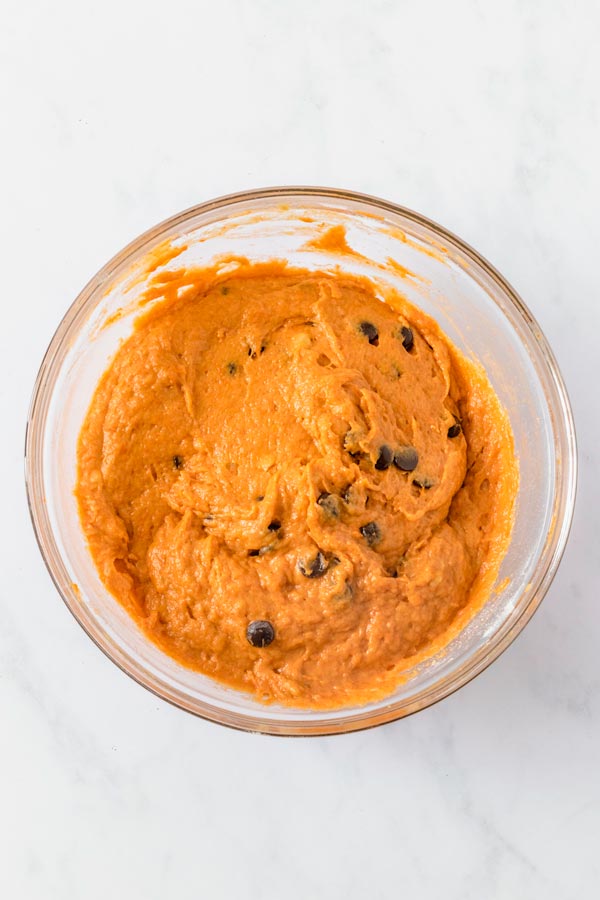 Next, transfer the batter into a 9 x 5 inch loaf tin that is lightly greased with cooking oil or lined with parchment paper. Tap the tin a few times against an even surface to remove any air bubbles and make the batter even. Make a small cut in the middle of the bread dough and decorate with additional chocolate chips on the top.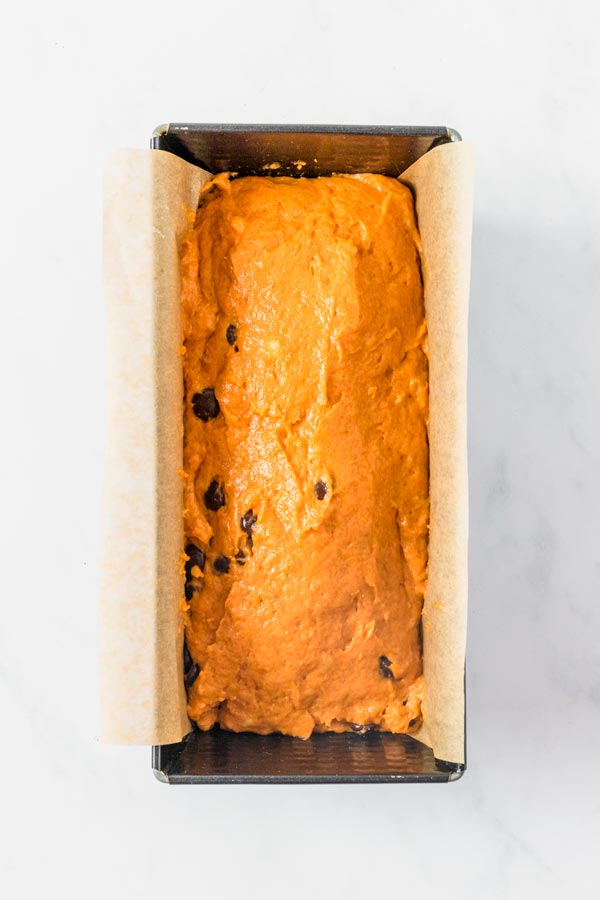 Bake for 55 minutes to an hour until the toothpick inserted into the center comes out clean or with a few breadcrumbs. The pumpkin bread will rise a lot during baking but once you open the oven after 55 minutes it will come down. Once finished, let the bread rest in the tin for 15 minutes before transferring it onto a wire rack to cool completely.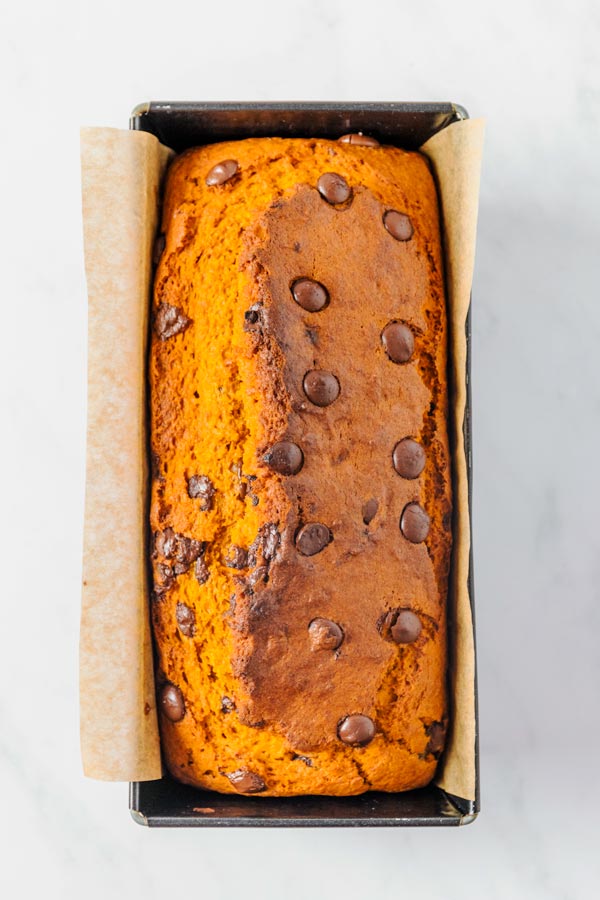 Additional Baking Tips
Try not to open the oven unless the top of the chocolate chip pumpkin bread is getting too brown. If you notice your bread becoming too brown, quickly cover it with a piece of aluminum foil. This will allow the bread to continue cooking without the top burning.
Discover More Pumpkin Recipes
Storage
This chocolate chip pumpkin bread with banana will store on the counter for 2 days and should then be placed in the refrigerator. It will last an additional 2 days in the fridge. You can also freeze slices of this bread in ziplock bags. Just take it out to defrost for about 30 minutes and reheat in the oven, toaster oven, or air fryer for a few minutes.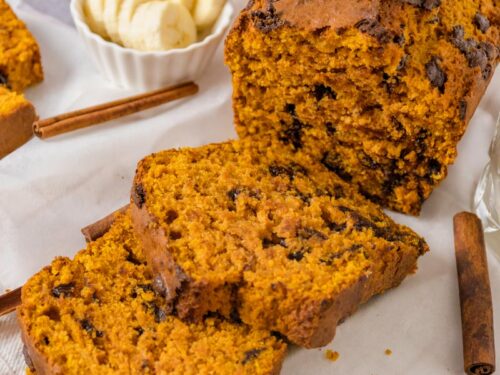 The Best Chocolate Chip Pumpkin Bread with Banana
This is the best chocolate chip pumpkin bread with the fall flavors of cinnamon, ginger, and nutmeg. The addition of bananas makes this bread extra moist.
Ingredients
½

cup

banana's

ripe & mashed

15

oz

pumpkin puree

can or homemade, excess water removed

2

large

eggs

room tempurature

2 ¼

cups

flour

spooned, leveled, & sifted

1

tsp

baking powder

sifted with flour

½

tsp

baking soda

sifted with powder

¼

tsp

ground ginger

1

tsp

pumpkin spice

1

tsp

ground cinnamon

½

tsp

salt

¾

cups

butter

unsalted at room tempurature

½

cup

sugar

white granulated

½

cup

brown sugar

1 ½

tsp

vanilla extract

¼

tsp

nutmeg

ground

¾

cups

chocolate chips

save 1/4 cup to sprinkle on the top
Instructions
Preheat the oven to 350 F. Then grease a 9 X 5 loaf pan or line with parchment paper and set to the side.

Beat the eggs with a mixer on low. Then add butter, sugars, vanilla, mashed banana, pumpkin puree. Mix again until combined.

1/2 cup banana's,

15 oz pumpkin puree,

2 large eggs,

3/4 cups butter,

1/2 cup sugar,

1/2 cup brown sugar,

1 1/2 tsp vanilla extract

In a seperate bowl, sift your flour, baking soda, and baking powder. Then add the remainder of the dry ingredients to the bowl and mix together.

2 1/4 cups flour,

1 tsp baking powder,

1/2 tsp baking soda,

1/4 tsp ground ginger,

1 tsp pumpkin spice,

1 tsp ground cinnamon,

1/2 tsp salt,

1/4 tsp nutmeg

Add your dry ingredients to the wet ingredients and mix on low to combine.

Add the 1/2 cup of the chocolate chips and gently combine using a spatula.

Spoon the batter into your loaf pan and tap or shake to remove any air bubbles. Then sprinkle the remainder of the chocolate chips on the top.

Bake at 350 F degrees for 55 minutes. Let cool for 15 minutes before removing from the load pan.
Notes
If your chocolate chip pumpkin bread is becoming too browned at the top, you can place a piece of foil over the top. Otherwise, try not to open the oven door.
Remove the access water from the pumpkin puree using a cheesecloth
To make your own puree you can follow our quick guide in our article on the Best Pumpkins to Use for Pies, Baking, and Cooking.
Nutrition
Serving:
1
slice
|
Calories:
377
kcal
|
Carbohydrates:
52
g
|
Protein:
5
g
|
Fat:
17
g
|
Saturated Fat:
10
g
|
Polyunsaturated Fat:
1
g
|
Monounsaturated Fat:
4
g
|
Trans Fat:
1
g
|
Cholesterol:
76
mg
|
Sodium:
346
mg
|
Potassium:
181
mg
|
Fiber:
2
g
|
Sugar:
27
g
|
Vitamin A:
7103
IU
|
Vitamin C:
2
mg
|
Calcium:
62
mg
|
Iron:
2
mg
|
Net Carbohydrates:
50
g