Posts may contain affiliate links. Read our full disclosure policy here.
If you're searching for an amazing Orange County Omakase experience there are plenty to choose from. Omakase experiences have grown in popularity over the last several years, but there is still one I always return to when I want to be guaranteed outstanding quality.
If you value exceptional ingredients and perfected flavor combinations, Hamamori Sushi at South Coast Plaza will never steer you wrong. Whether I'm enjoying a date night or entertaining sushi-loving guests from out of town, Hamamori will always be one of my favorite restaurants.
Take a look at our entire Omakase experience below.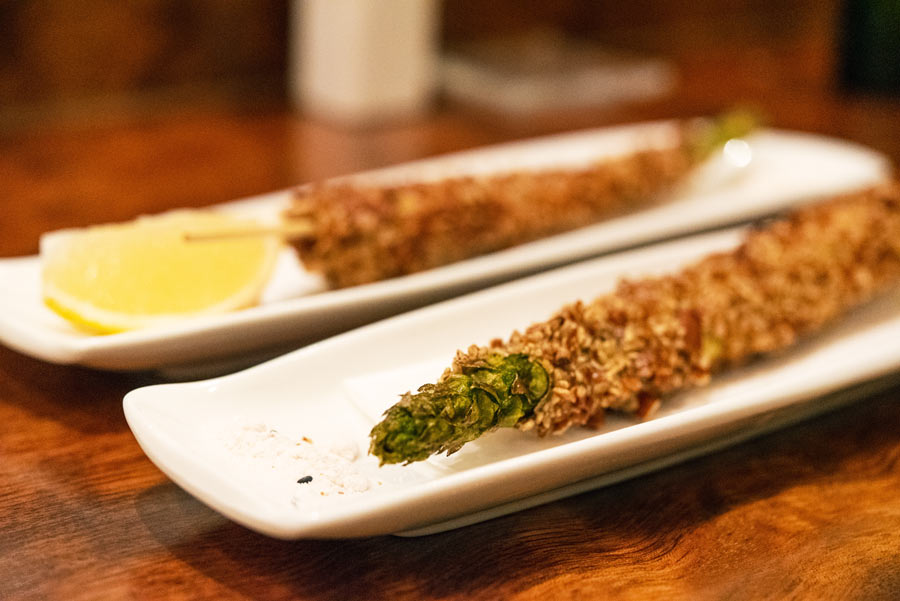 What does Omakase mean?
The word Omakase is a Japanese phrase that means "to entrust". In the culinary world, an Omakase sushi experience is when you entrust the chef to select for you.
Omakase Expectations
Most Orange County Omakase experiences will have you seated at the chef's counter. The chef may or may not ask if you have any likes, dislikes, or preferences. You will then be served several courses which can of the chef's whim.
Omakase dining is known for representing the best a sushi restaurant has to offer. Here is a complete look at the Hamamori Sushi Omakase and it is a feast for the eyes. I definitely recommend bringing your appetite.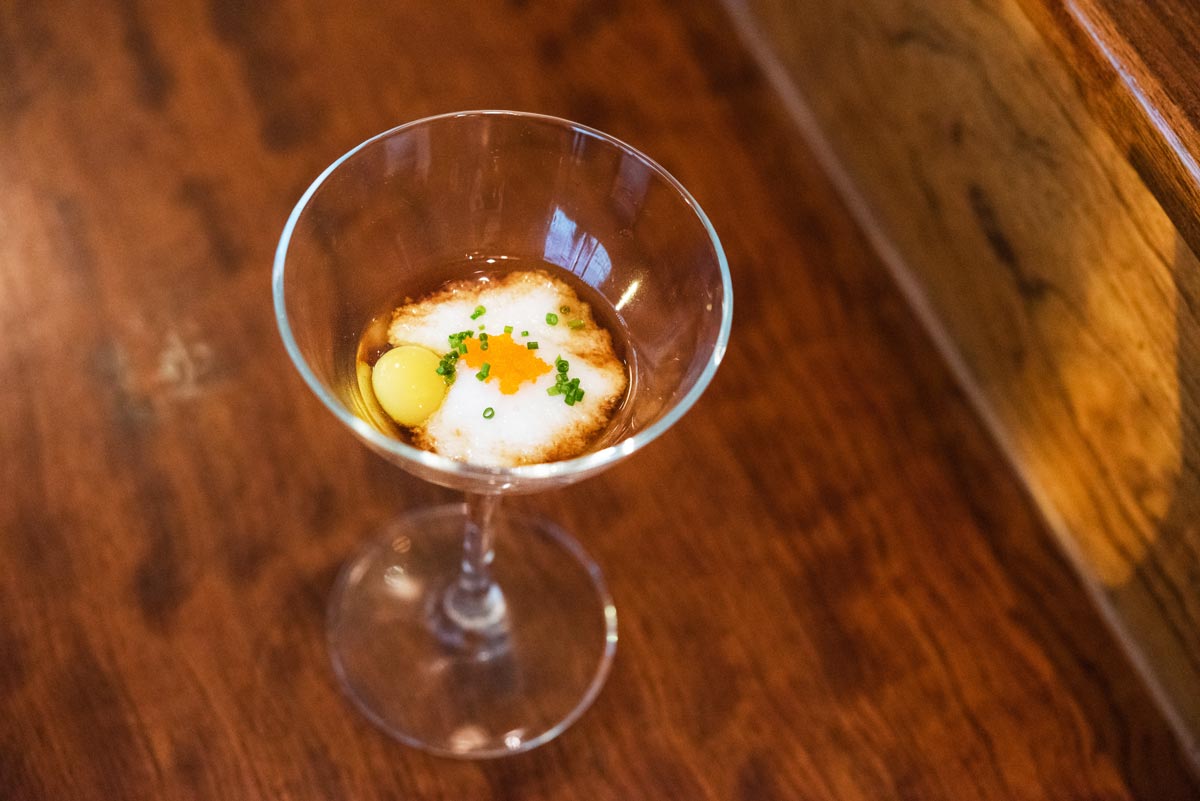 Course 1: Uni Shooter
Since this dining experience was for this article, I was open to trying anything. But the one ingredient I am questionable about is Uni. So what better way to start our Omakase than with an Uni shooter! The truth is, many people love Uni and it is considered a delicacy. The Uni Ponzu Shooter with Smelt Egg was so incredibly fresh that it did not conjure up any association with my first poor Uni experience. I enjoyed the mildly sweet flavor and surprisingly pleasant texture.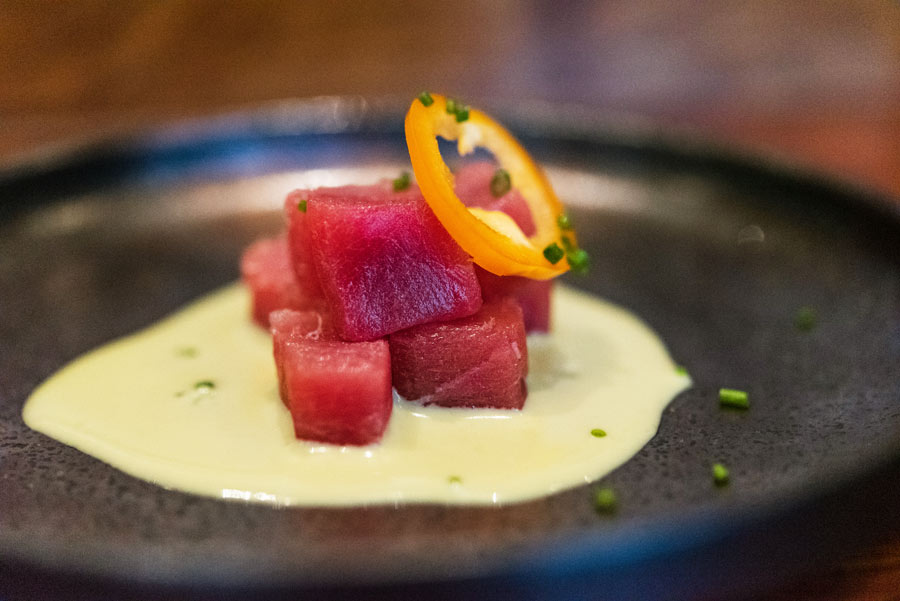 Course 2: Blue Fin Tuna with Serrano Sauce
Chef Hamamori has several signature dishes and sauces. His Serrano Sauce is one of them and it is exceptionally tasty with only the most subtle hint of spice. It was also a generous portion and the quality of the Blue Fin Tuna could not be beaten.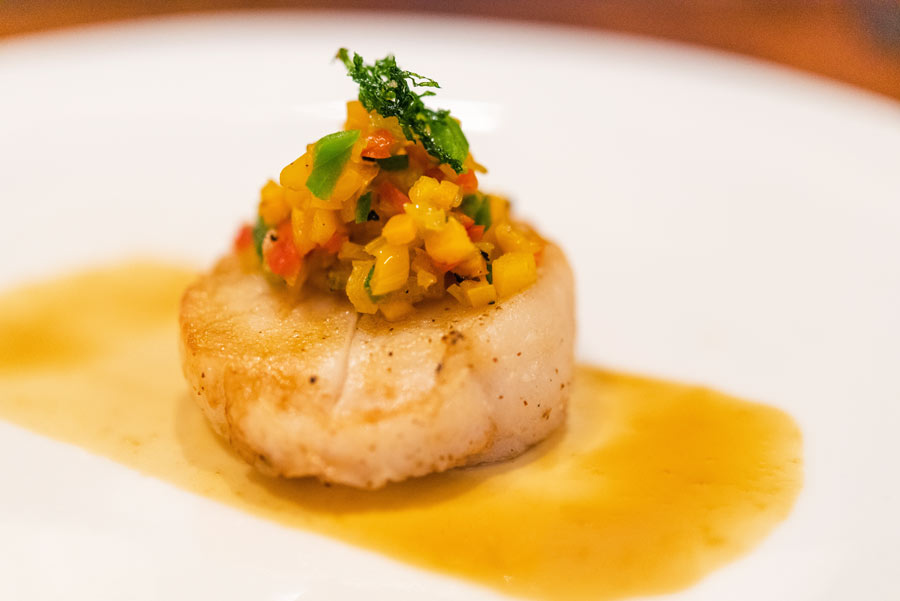 Course 3: Seared Scallop with Sweet Pepper
The third course was a perfectly seared scallop over an uni sauce and topped with finely diced sweet peppers. Any scallop lover will love this preparation. Many Orange County Omakase experiences will feature more than just sushi.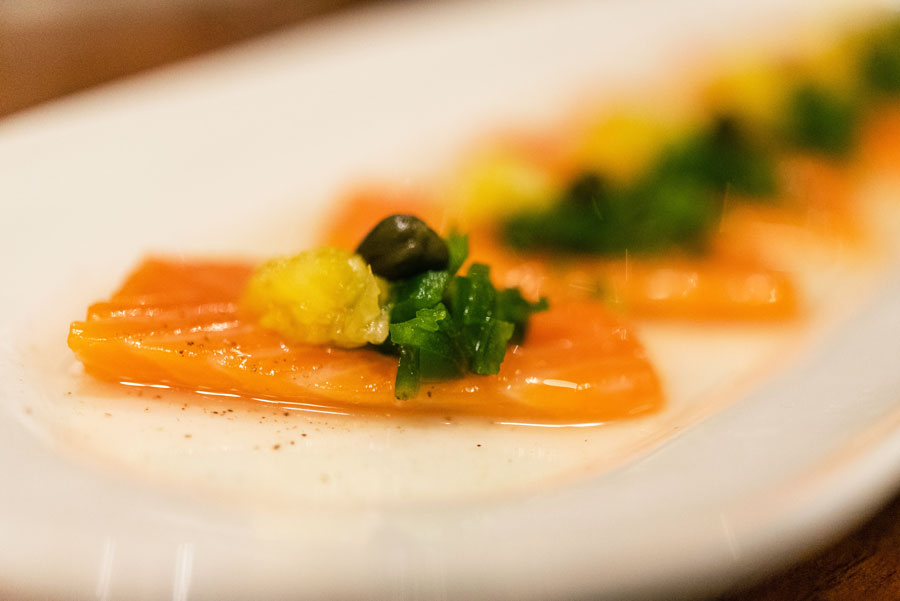 Course 4: King Salmon
Hamamori Sushi is one of the few places I will order and enjoy raw salmon. This dish was a stand out in both flavors and presentation. Our King Salmon arrived in a yuzu mignonette, topped with capers, pineapple, and jalapenos. The thoughtful addition of crushed pineapple was a delightful flavor combination.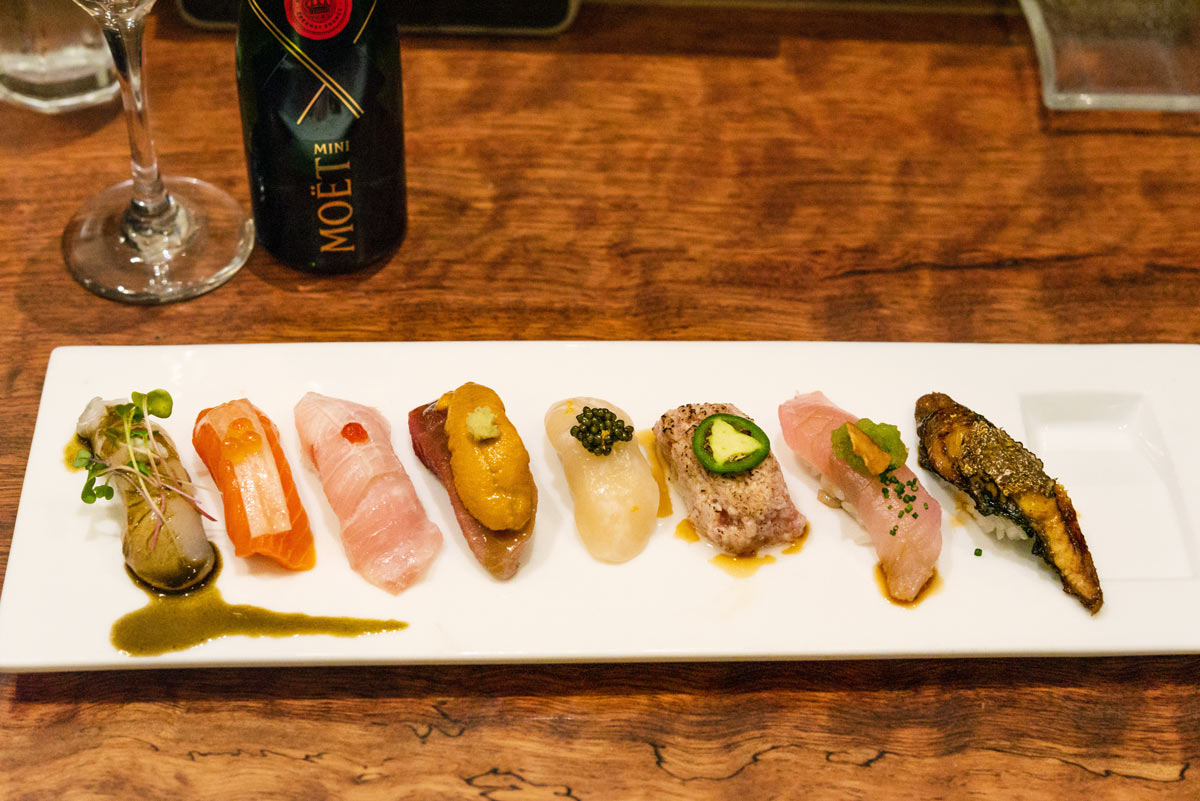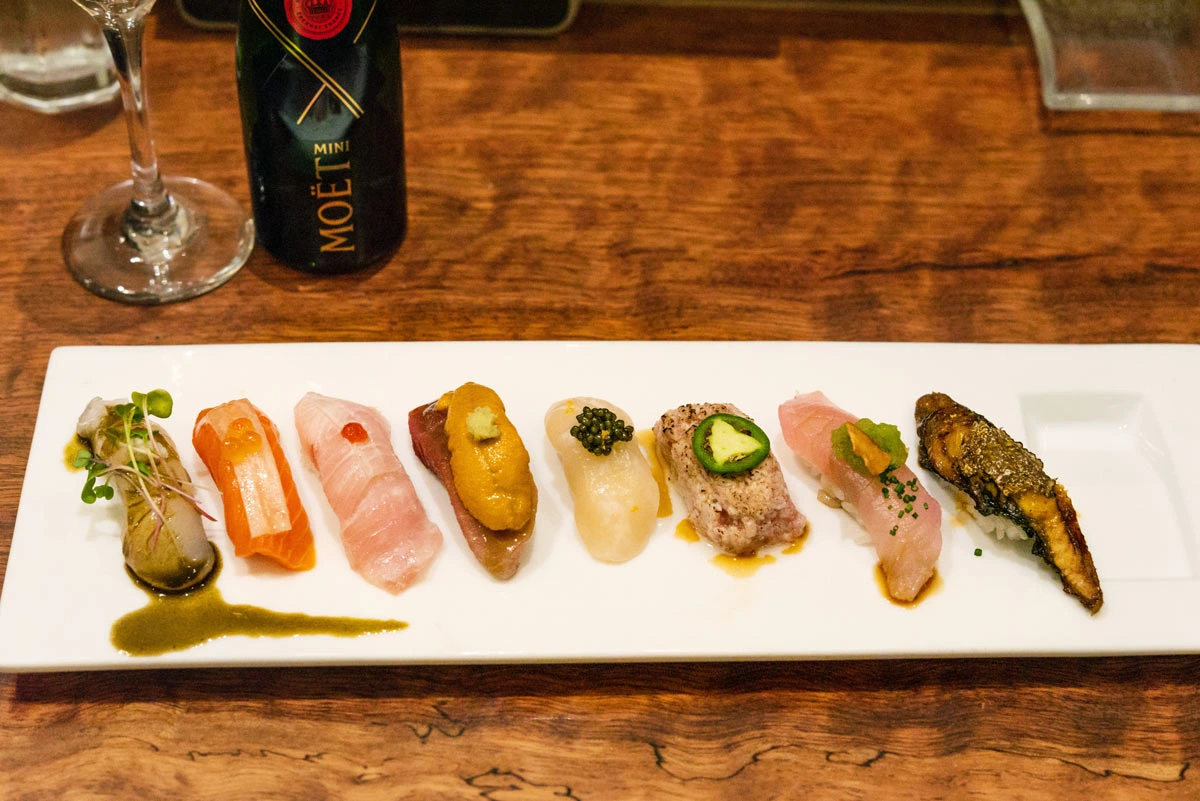 Courses 5-12: The Hamamori Gems
Chef Hamamori has created 8 perfectly crafted pieces of sushi which he has named the Hamamori Gems. They are one of his most popular specialties. During a normal Omakase they would each be served individually, but to showcase them in the article, I wanted to present them all together.
The Hamamori Gems consist of a Halibut with nori vinaigrette and the unique addition of blue cheese which I was not expecting, but was a very pleasant surprise. Then King Salmon with pickled daikon and salmon roe, Yellowtail with yuzu koshu, Blue Fin Tuna with fresh Uni, Raw Scallop with caviar, Yellowtail with jalapeno, Albacore with crispy garlic, and Unagi with truffle.
I have to say, out of the eight my favorite surprise was the Unagi with truffle which is served warm with the skin crisped. Crisping the skin was an elegant touch and made all the difference.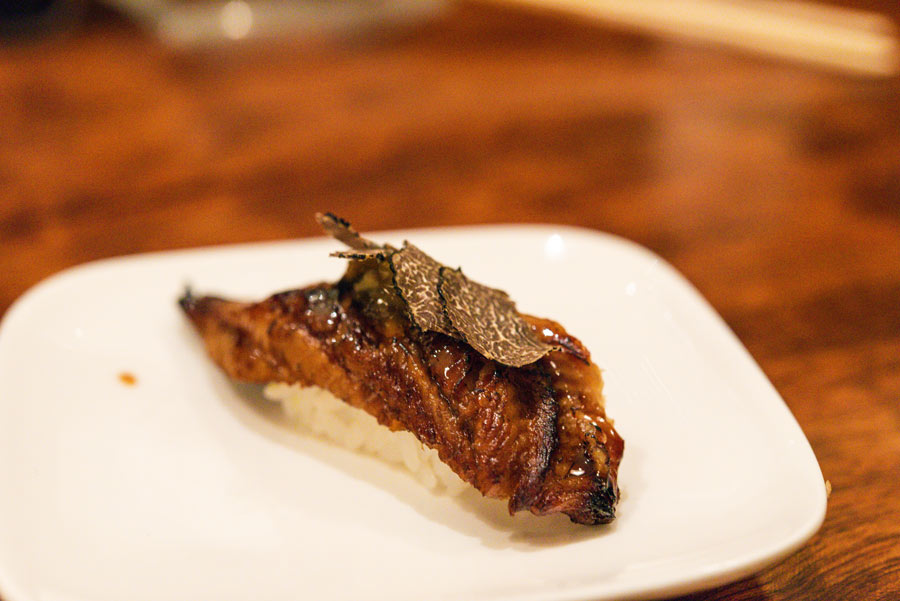 Course 13: Blue Fin Tuna with Bonito
After the Hamamori Gems I was so incredibly full, but saved room for one final piece. This Blue Fin Tuna preparation seemed so simple but was another favorite of mine. It was topped with simple Bonito flakes soaked in soy sauce and was so flavorful. The simplicity really brought out the freshness of the tuna.
Now I will admit I might be partial to Hamamori as it was one of the first dates my fiance took me on when I visited Orange County for the first time. He told me he parked on the opposite side of the mall so we could walk across the scenic bridge and he could try to get a smooch (it worked) lol.
When dining at Hamamori Sushi at South Coast Plaza, the Omakase is off menu and just needs to be asked for at the Chefs Counter. It is absolutely one of the best Orange County Omakase experiences you'll find!
Hamamori Orange County Omakase Reservations
You will definitely want to make a reservation at Hamamori for the chefs counter. It is completely booked most nights, however, snagging a reservation is not as tedious as many other Orange County Omakase experiences which don't take reservations at all.
South Coast Plaza ( 3rd floor on the side with the furniture. You can also take the bridge!)
3333 Bear St.
Costa Mesa, CA 92626
Reservations: 714-850-0880
Current hours:
Monday – Saturday:
11:30am – 2:00pm
5:00pm – 9:00pm
Sunday:
12:00pm – 6:30pm
Discover More Amazing South Coast Plaza Restaurants