Elevated Mexican food in Orange County has truly emerged and Gema in San Clemente is the latest restaurant to be added to the growing list. However, the cuisine you'll find at Gema is truly unique, utilizing not so ordinary ingredients with Mexican gastronomy.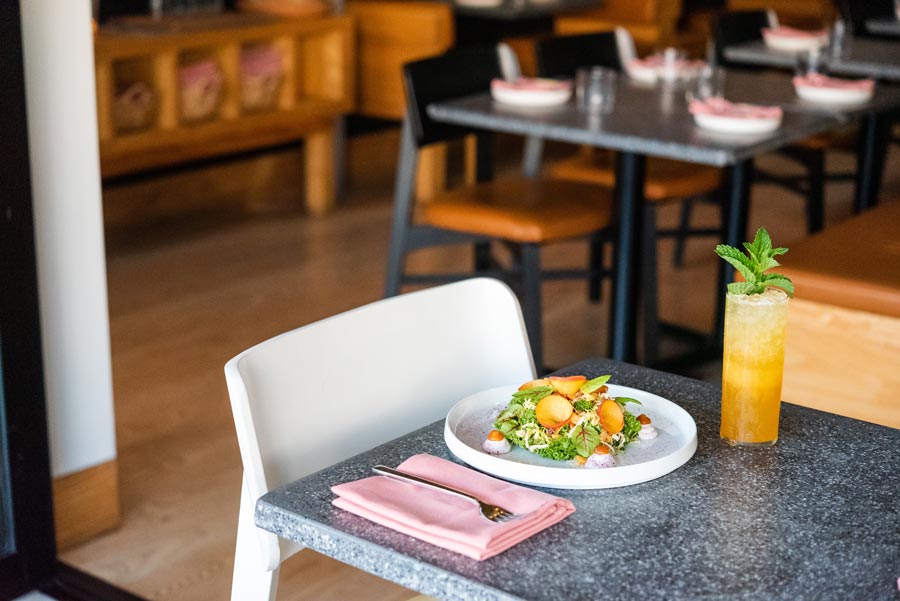 Imported and Locally Sourced Ingredients
All of the ingredients you'll find at Gema are sourced from local farmer's markets and imported straight from Mexico. For example, when you order a salad, you might find slight variations in the types of greens and fruit depending on what is available. Their Duranzo Salad is a perfect example of an ever-changing dish that reflects our local markets.
Mezcal Room
When you're ready for cocktails, one unique feature at Gema in San Clemente is their fabulously pink Mezcal room. The shelves feature a wide variety of delicious Mezcals available for tasting. Guests can enjoy one of their many amazing mezcal cocktails like the La Passion with Amaro and passion fruit or a mezcal tasting flight with Chicatana ant salt.
Their Pink Mezcal Room will even feature "The Library", Gema's own mezcal program that allows guests to purchase and house mezcal by the bottle. A modern take on classic locker programs, The Library features open shelving that showcases the unique mezcal bottles with custom leather tags as identification for their owners. The program is meant to inspire guests to explore the vast world of Mexican mezcal.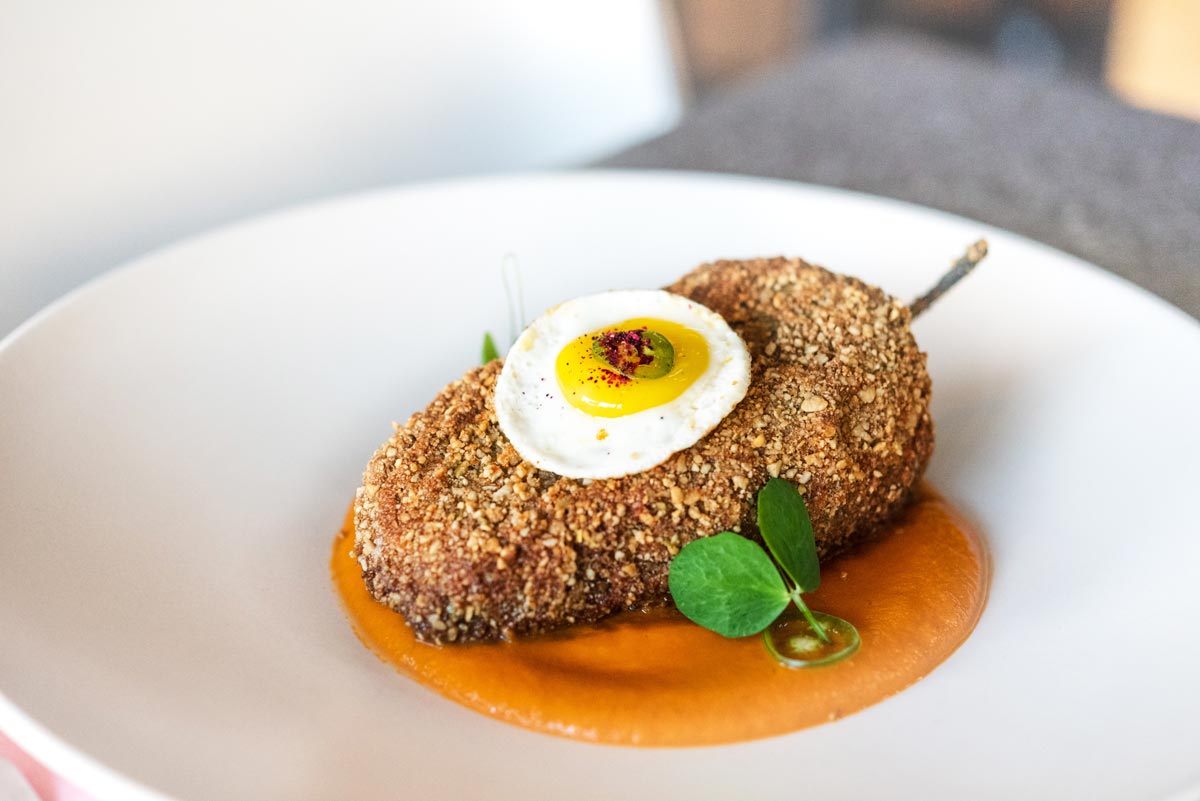 Chile Relleno
One of my favorite dishes at Gema is their unique Chile Relleno. The hazelnut crust not only lends to a beautiful presentation but the perfect crispy crunch up until the last bite. The Chile Relleno is rested in a tomato espuma, topped with a quail egg, and stuffed with quesillo and huitlacoche (a Mexican delicacy).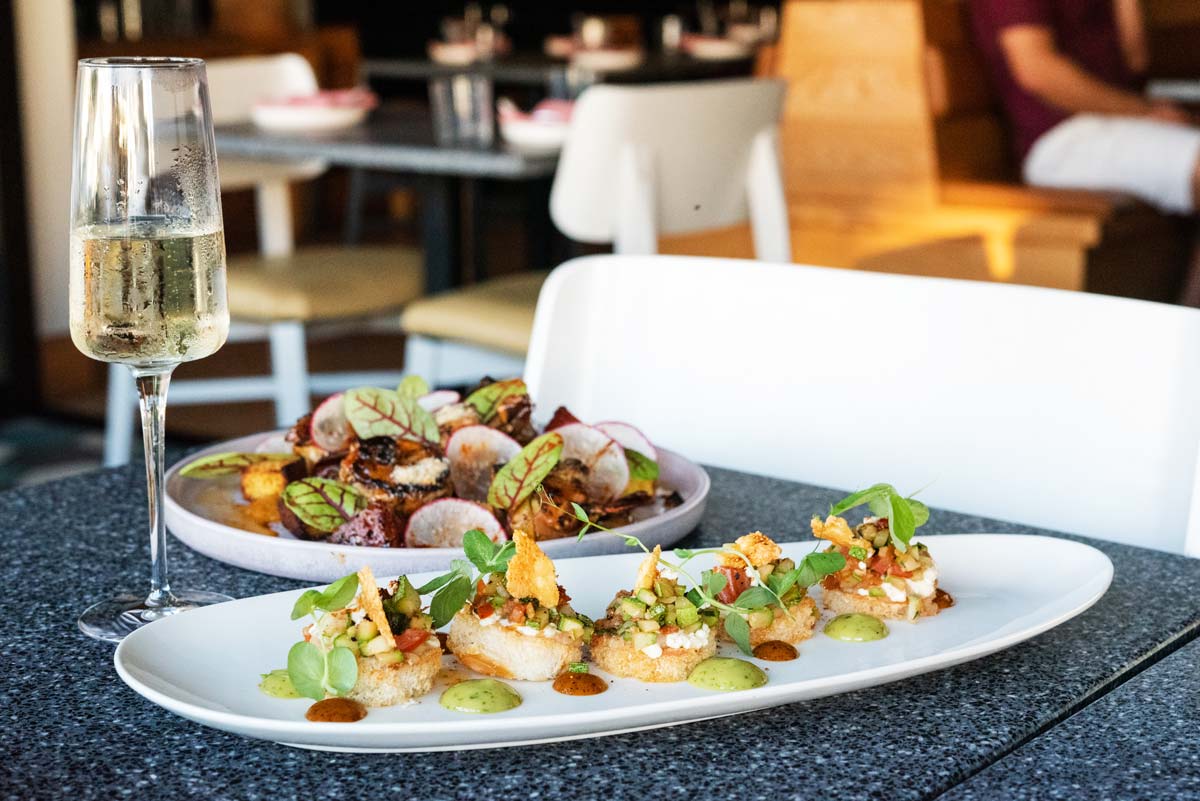 Molletes
Molletes are a traditional Mexican "peasant food" where you take your leftover tortillas or bread and top them with whatever ingredients you can find lying around the kitchen. Most commonly this is beans and cheese, eaten open face. The Molletes at Gema is a must-order dish that features Quesillo cheese, Bayo bean spread, Tatuma squash, and heirloom tomato. This elevated spin on the dish is incredibly fresh, flavorful, and crave-worthy.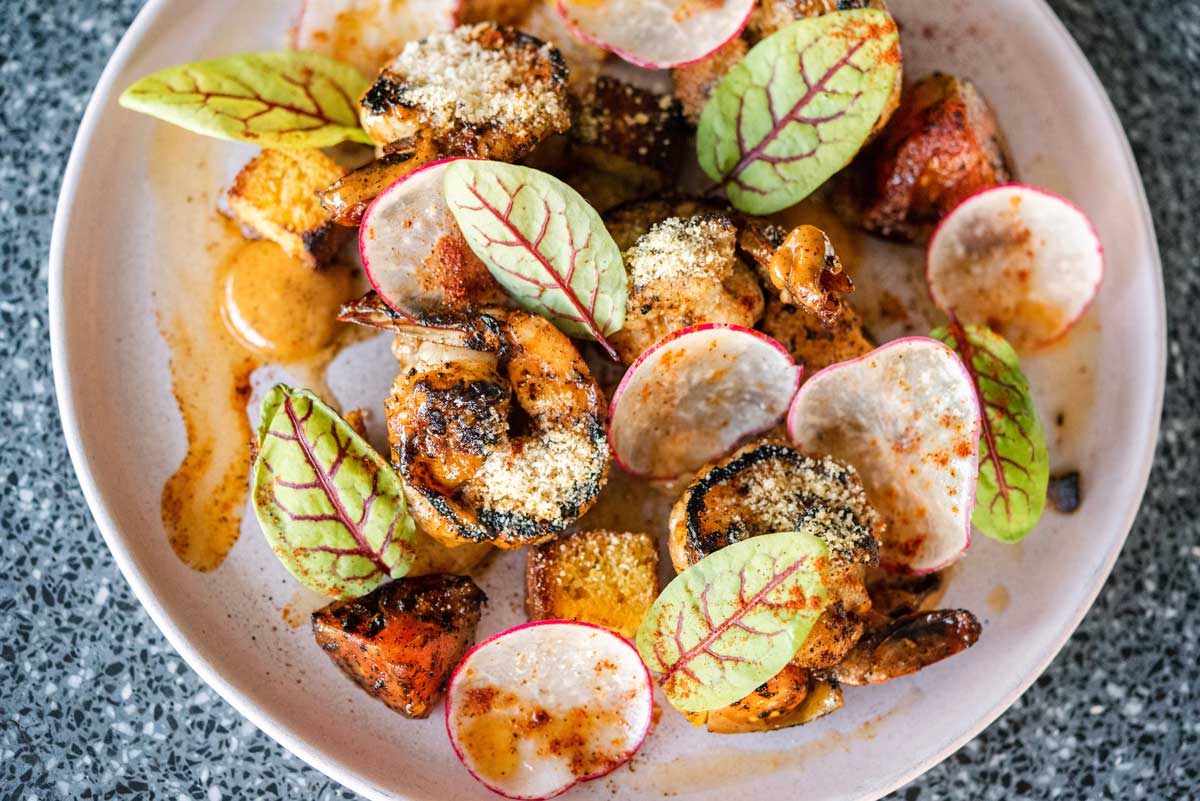 Grasshoppers, Ants, and Huitlacoche Oh My
When it comes to Mexican food in Orange County, you rarely find a restaurant that is willing to truly step outside the box. This is not the case with Gema which featured hidden, not so common, ingredients like "grasshopper crema" featured on the Camarones Flameados and Huitlacoche, a fungus that grows on corn and is considered a delicacy in Mexico.
The ingredients are so subtle that in most cases, you would never know they were present. Each component just adds to the overall harmonious flavors of each dish.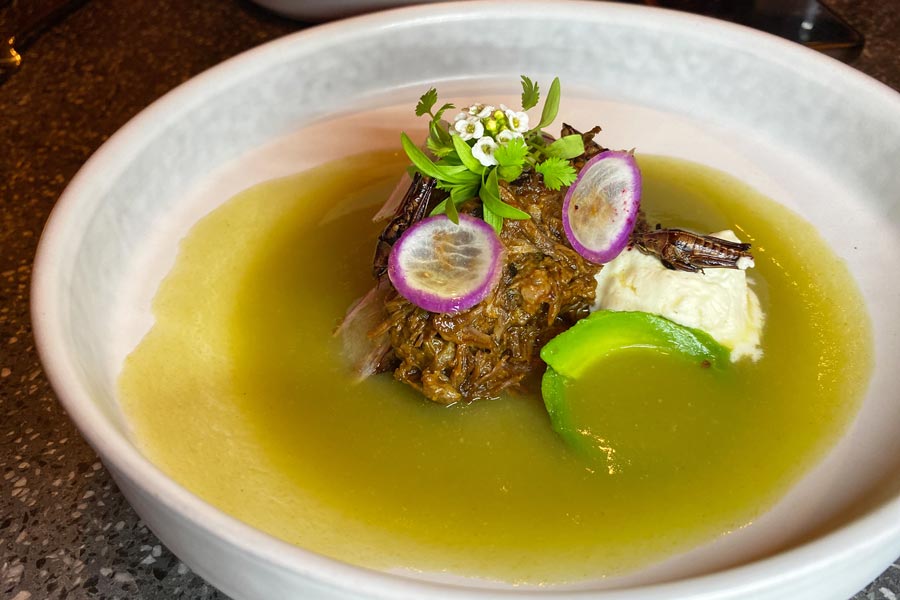 Barria de Res
If you are feeling adventurous, their Barria de Res is a tender short rib with corn cake, chile guajillo glaze, chamray onion confit, jardin mix, and a garnish of grasshopper.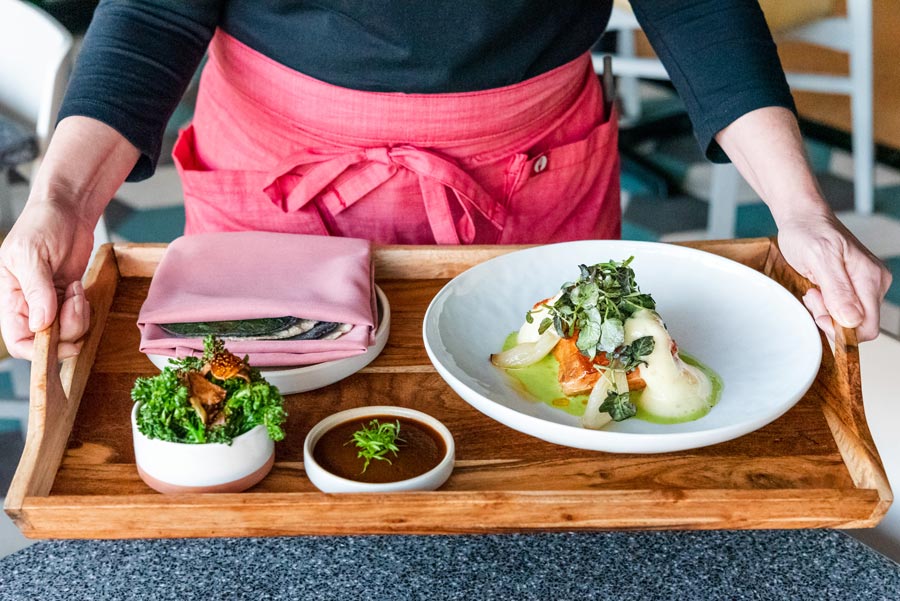 Halibut Al Pastor
The Halibut Al Pastor introduces a more non-traditional, yet authentic variation of this achiote spiced dish. It is accented with a wonderfully balanced pineapple foam and serrano puree.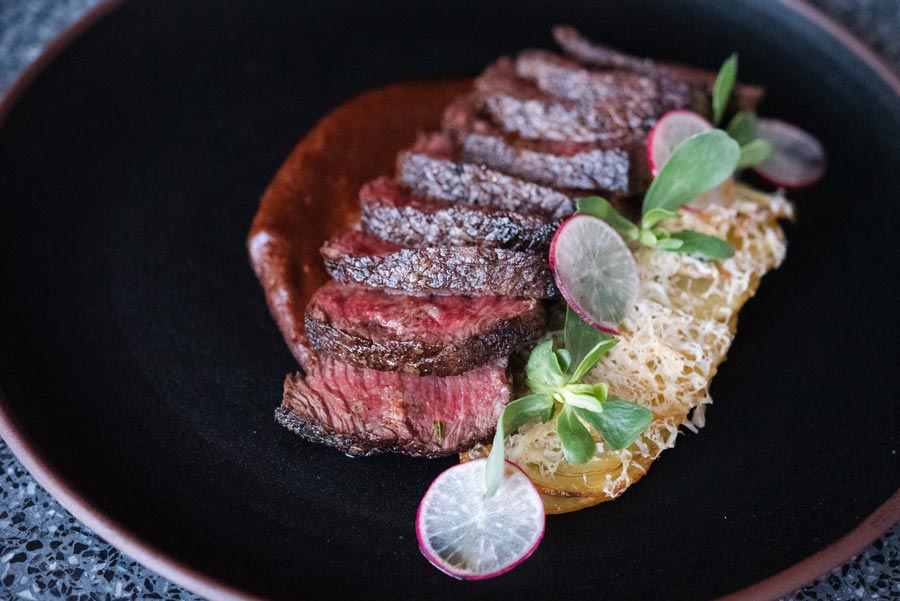 Wagyu Steak
I highly recommend slicing into their MB-8 Australian Wagyu Filet with tamarindo adobo, next to scalloped potatoes accented with purslane salad.
Chef Cruz
Chef Cruz, who attended culinary school in Mexico City, has brought his knowledge of indigenous ingredients and traditional techniques to Gema in San Clemente.
"What excites me is being able to marry ingredients from Mexico with great seasonal produce and high-quality proteins to create a dish that brings authenticity to Mexican dining in Orange County."

Chef Cruz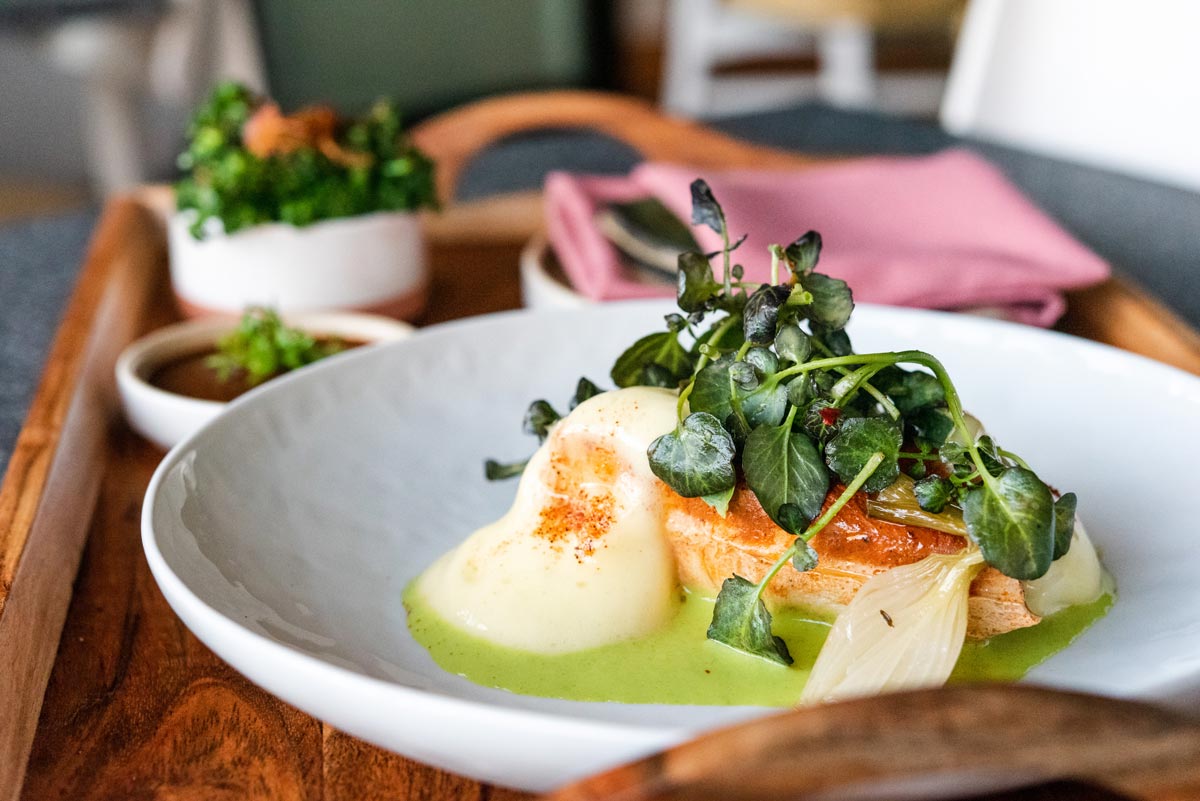 Health Conscious
While dining at Gema, one thing you'll notice as soon as you take your first bite is the thoughtful healthy preparation. Gema's menu is committed to accommodating vegan and vegetarian lifestyle choices, and clean eating, with the use of only avocado oil and extra virgin olive oil. 
Many dishes traditionally fried, such as the Chile Rellenos, use unique preparations to maintain that same level of crunch without the grease.
Almost all the dishes at Gema are also gluten-free by utilizing corn tortillas and cornbread croutons.
When it comes to Mexican food in Orange County, there is really no restaurant that can compete with the authenticity and unique ingredients which Chef Cruz has created for Gema.
110 South El Camino Real in San Clemente
Tuesday – Thursday 5pm – 9pm
Friday & Saturday 5pm – 10pm
Reservations: 714-640-9371
Discover More Orange County Restaurants