We've finally found the best Peruvian food in Orange County and it is at Costa Contemporary Kitchen in Costa Mesa. If you've never had Peruvian cuisine, here is a delicious exploration of the amazing dishes you've been missing.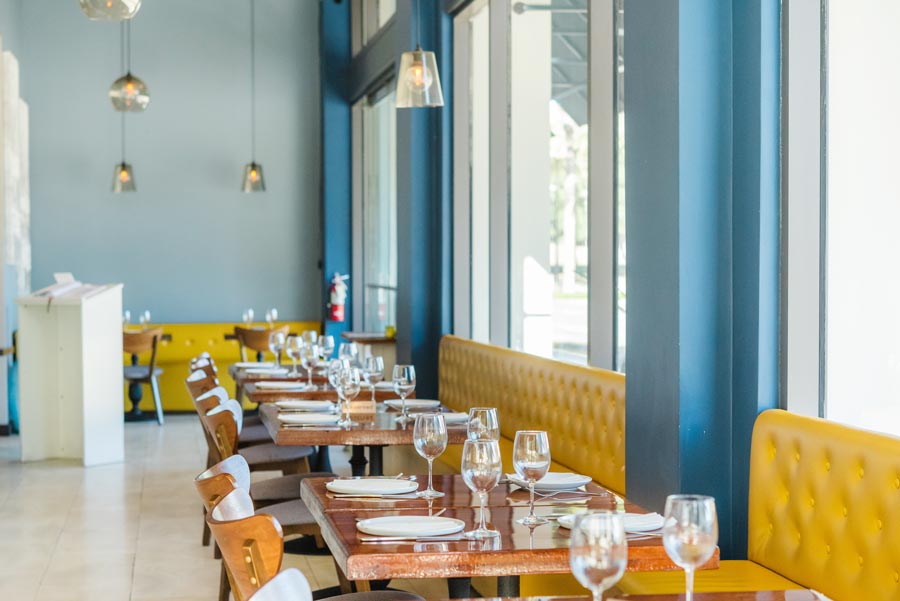 Costa Contemporary Kitchen in Costa Mesa is a small intimate restaurant located across from South Coast Plaza and directly across from the Sub Zero Wolf Showroom. Their dishes combine traditional ingredients with exceptional quality. The sauces are light and refreshing, the meats tender, and the flavors authentic.
Served on each table are these amazing Canchas which are like a cross between popcorn and a corn nut. The kernels are fried until they just slightly begin to cook so you get that nice crunch on the outside but the inside is soft like popcorn. These are the extra special touches that make this restaurant so fantastic.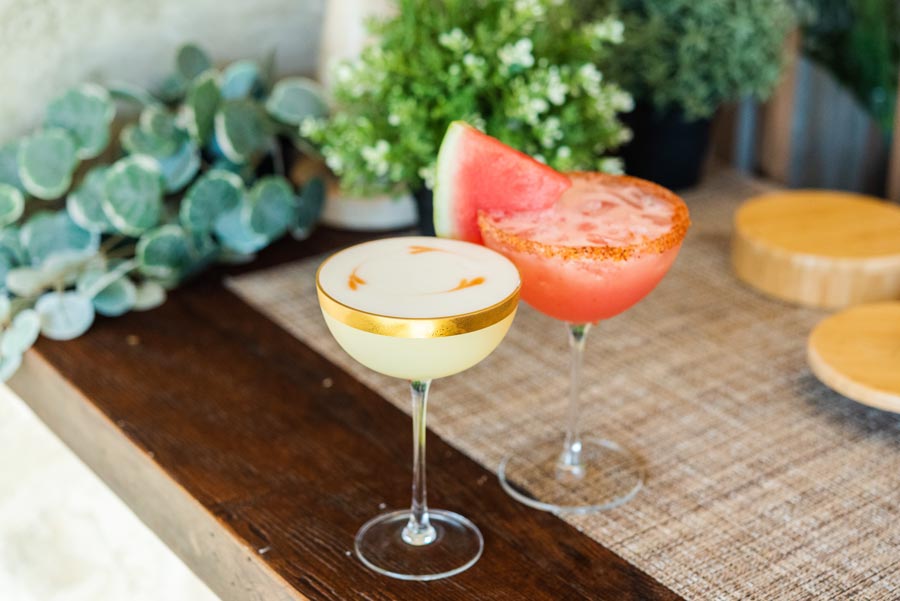 Peru's most popular cocktail the Pisco Sour
First, let's begin our exploration with the cocktails. The Pisco Sour is a traditional Peruvian cocktail made with Pisco liquor. Pisco is actually a type of Brandy made from fermented grapes. The flavors of this cocktail are actually light and refreshing.
If you want to try a cocktail that is more fruity and fun for the summer, the Sandia Fresca is one of their most popular cocktails. Made with Sambe cucumber vodka, watermelon, and lime, this cocktail was absolutely delicious!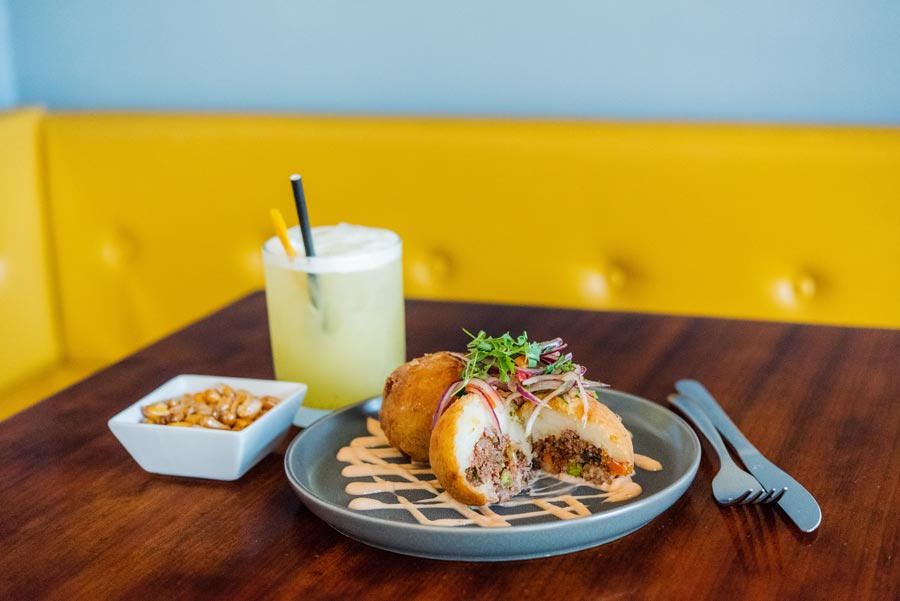 Papas Rellenas: Delicious Balls of Joy
One of my favorite Peruvian foods is Papas Rellenas. These balls of joy are two potato croquettes stuffed with ground beef, carrots, peas, and raisins. They are completely addictive and perfect for the table to share.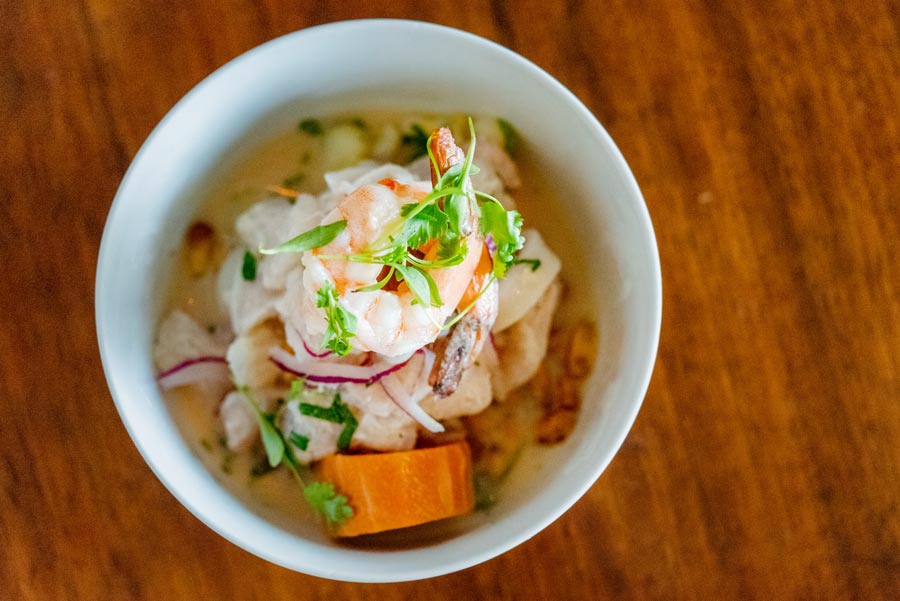 Ceviche Mixto in Leche de Tigre marinade
Peruvians are known for their fresh ceviche and at Costa Contemporary Kitchen, there are a handful of fresh seafood and ceviche options. The Ceviche Mixto is a well-portioned sampling of white fish, calamari, and shrimp in a flavorful citrusy Leche de Tigre marinade.
This marinade is so popular it has even become a tradition in Peru to drink the leftover reduction as a cocktail. The Ceviche Mixto at Costa Contemporary Kitchen had the most tender, fresh calamari with just the slightest hint of spice.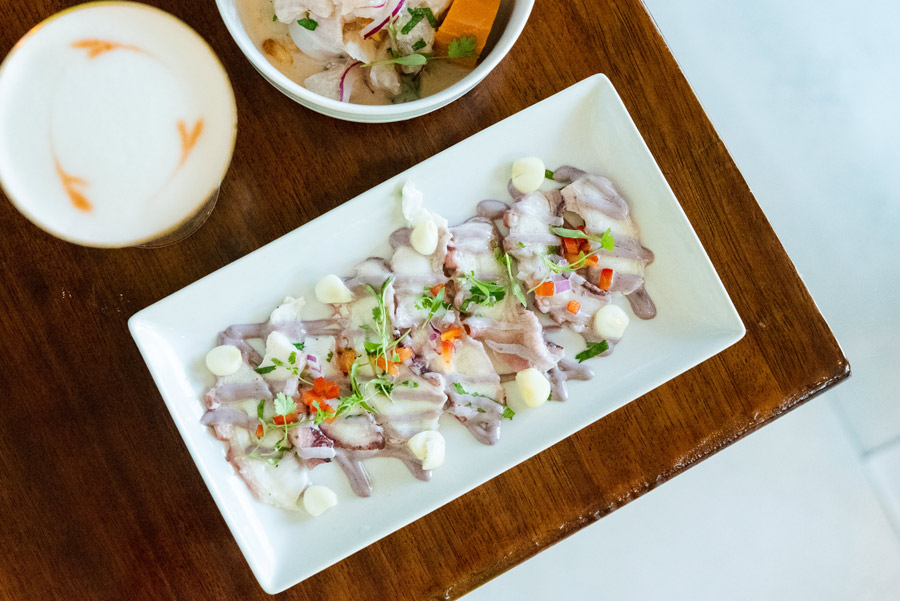 Pulpo al Olivo with Peruvian Botija Olive drizzle
Another very popular dish is the Pulpo al Olivo. This arrived as thinly sliced octopus with a fresh combination of citrus and a flavorful Botija Olives drizzle. Each bite of octopus was incredibly tender and the drizzle was a unique compliment to the dish.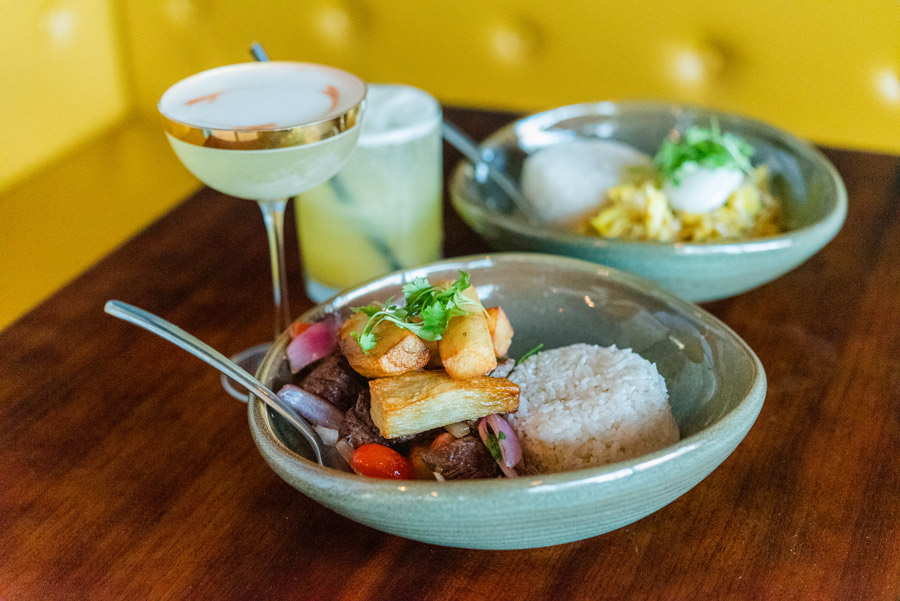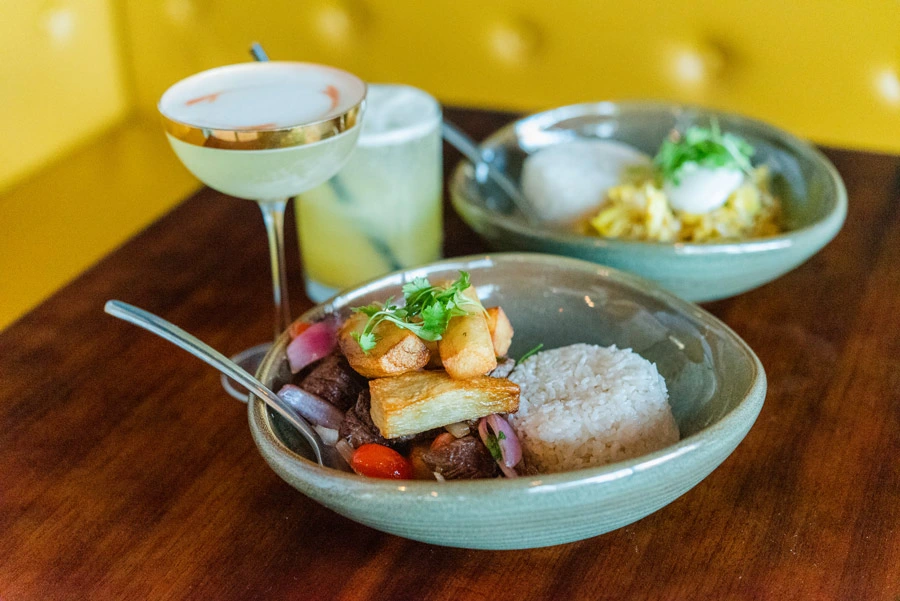 The Best Peruvian food in Orange County & Lomo Saltado!
For entrees, ordering the Lomo Saltado is an absolute must. This is one of the best you'll ever have as each ingredient is prepared separately so the filet mignon is incredibly tender, the vegetables still have that bit of crunch, and the yucca is perfectly crisp.
This dish alone easily makes this restaurant the best Peruvian food in Orange County. So many restaurants claim that a dish is made with filet mignon. Unfortunately, the majority of Lomo Saltado dishes I've tried serve meat that is chewy, over-cooked, and clearly not filet.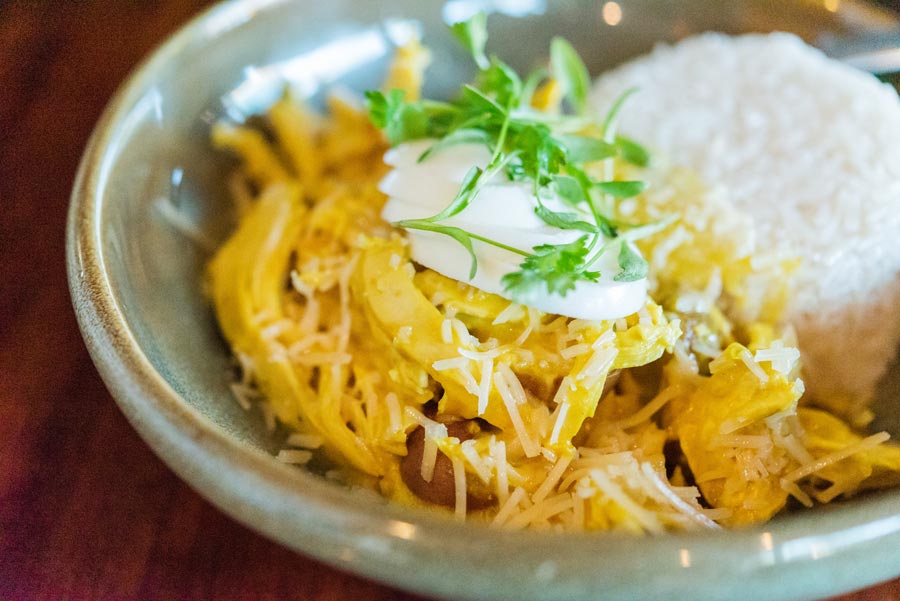 Authentic Aji de Gallina
One dish I have been searching for is the Aji de Gallina which I fell in love with when I tried it for the first time at the Disneyland Food and Wine Festival. In fact, it was my favorite dish at the event. I must have ordered it at least 5 times during the 2 months the event was taking place. I even looked up recipes, but I soon realized how complicated of a dish this was to prepare.
Finally, I was so excited to discover Aji de Gallina on the menu at Costa Contemporary Kitchen. The dish was served as it traditionally should be with egg, whole potatoes, and white rice. The sauce is made with fresh Aji peppers which are a challenge to find and usually have to be specially imported. They are the signature ingredient in many of Peru's famous dishes and sauces.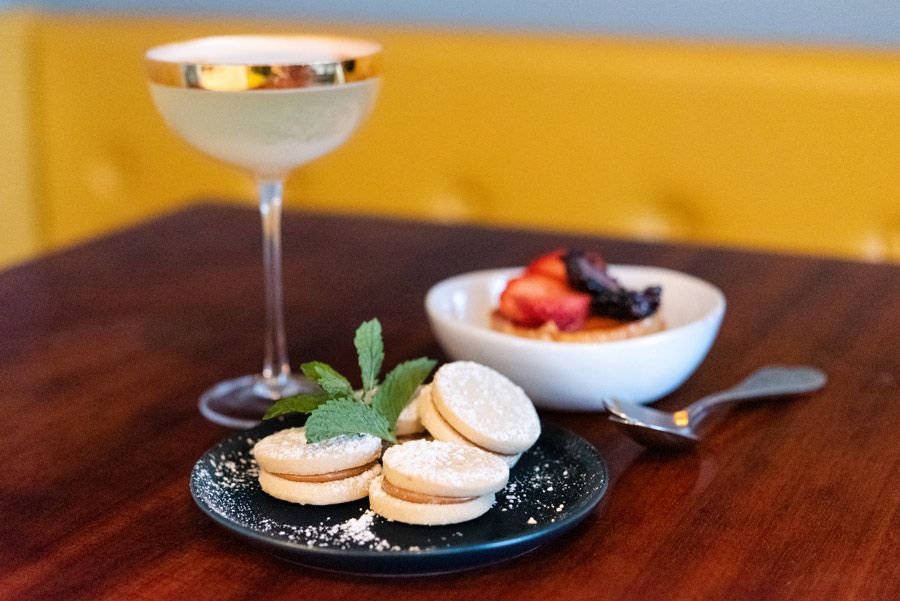 Dolce de Leche Cookies
For dessert, do not leave without an order of the Dolce de Leche Short Bread cookies. These are so delicious, that I placed an additional order to-go and ate them all for breakfast the next day. Each cookie has the perfect ratio of dolce de leche. I could eat a box of these in one sitting.
If you're enjoying a day of shopping at South Coast Plaza or attending a show at Segerstrom and want to experience truly amazing cuisine, I highly recommend making a reservation for delicious authentic Peruvian food at Costa Contemporary Kitchen in Costa Mesa.
Explore More Cultural Cuisine in Orange County