Whether you're craving an epic bloody mary, beautiful ocean views, or crispy chicken and waffles dripping with maple syrup, our list of the best brunch in Newport Beach has it all. I've covered many brunches throughout Orange County, but there is always something extra special about brunch in Newport Beach. Of all the delicious places we've visited, these restaurants offer the most crave-worthy brunches around.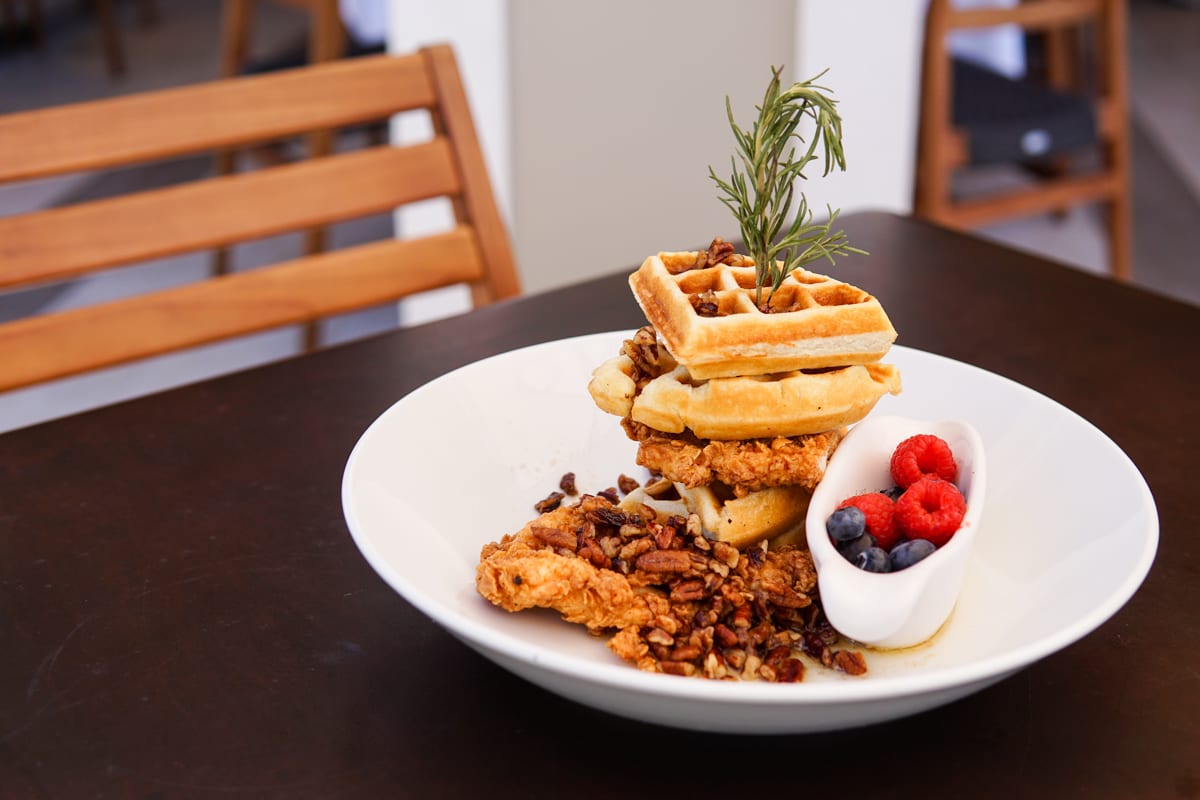 Saturdays and Sundays from 11am to 3pm
Brunch at Flemings Steakhouse has gotten even better since the recent remodel of their patio. Located in the luxurious Fashion Island, guests can enjoy gorgeous fire pits, spacious seating, and modern decor. The dishes at Flemings Steakhouse are beautifully presented and not to mention delicious. I especially love their classic chicken and waffles which arrive stacked with crispy fried chicken, Belgian waffles, pecans, and fresh fruit.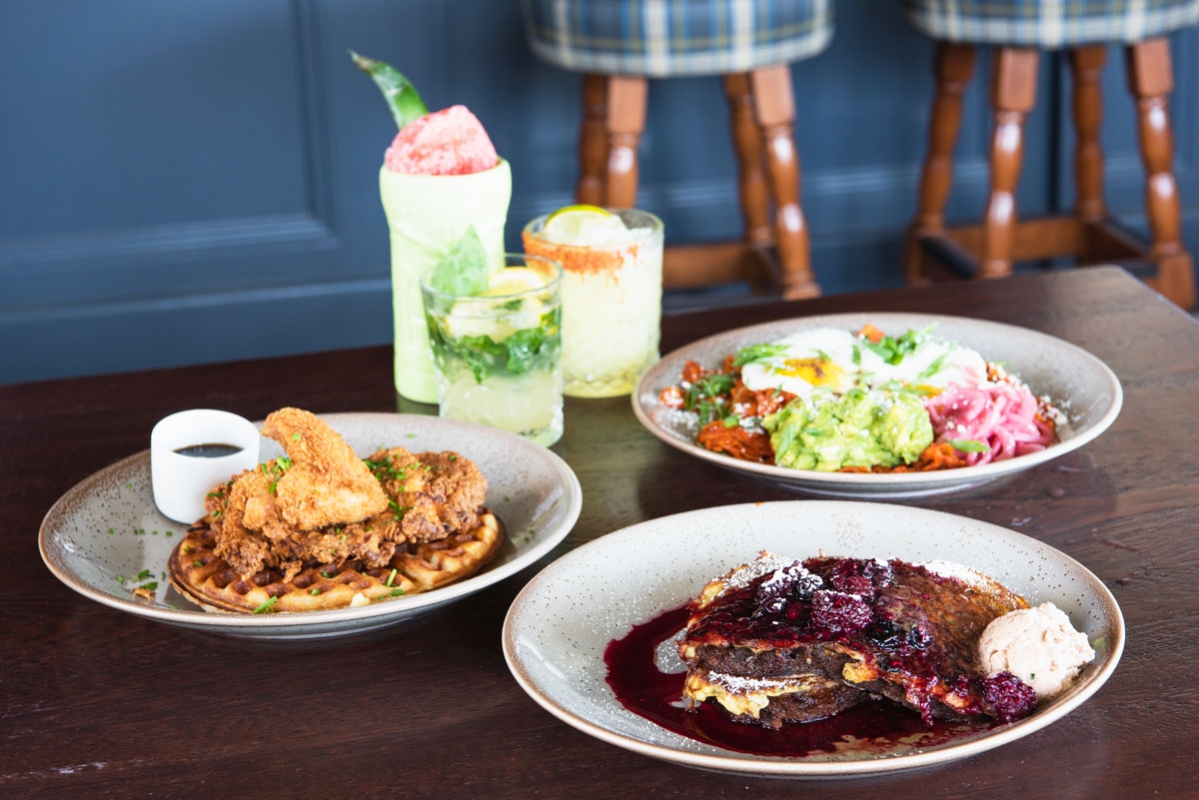 Saturdays and Sundays from 9am to 2pm
Helmsman features Californian cuisine which includes two bars, a dining area, and an outdoor patio. Aside from their fun ambiance, Helmsman Ale House offers a delicious brunch menu. One of my favorite dishes is their blueberry banana bread French toast with a generous scoop of cinnamon and brown sugar butter topped with fresh blueberry syrup. Helmsman also serves an impressive chicken and waffles with marinated buttermilk, black pepper stout, maple syrup, and waffles. The stout maple syrup is even made in-house! If you're looking to enjoy innovative cuisine for brunch in Newport Beach, head over to Helmsman!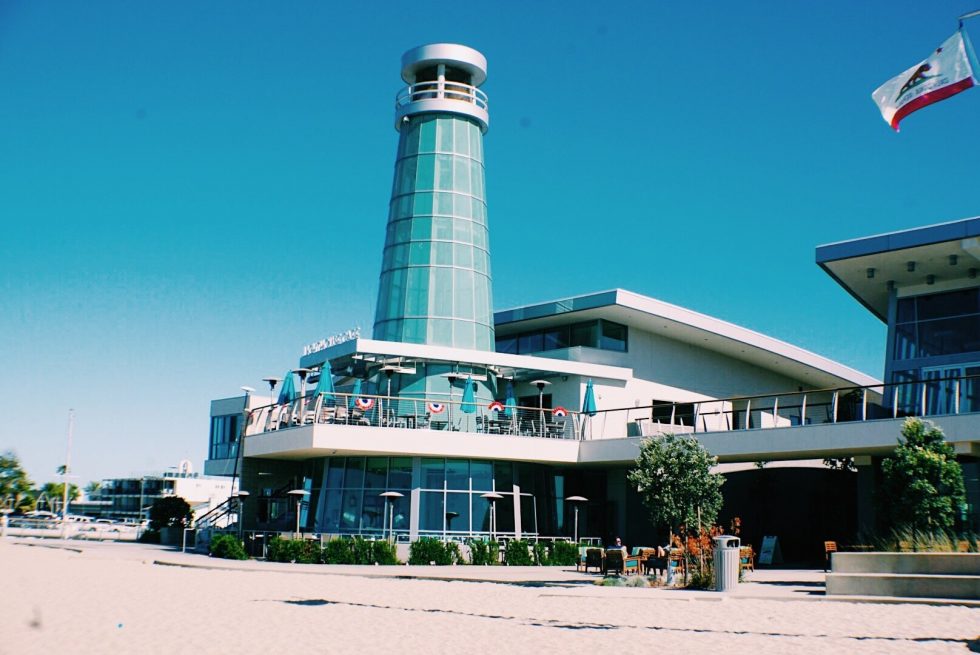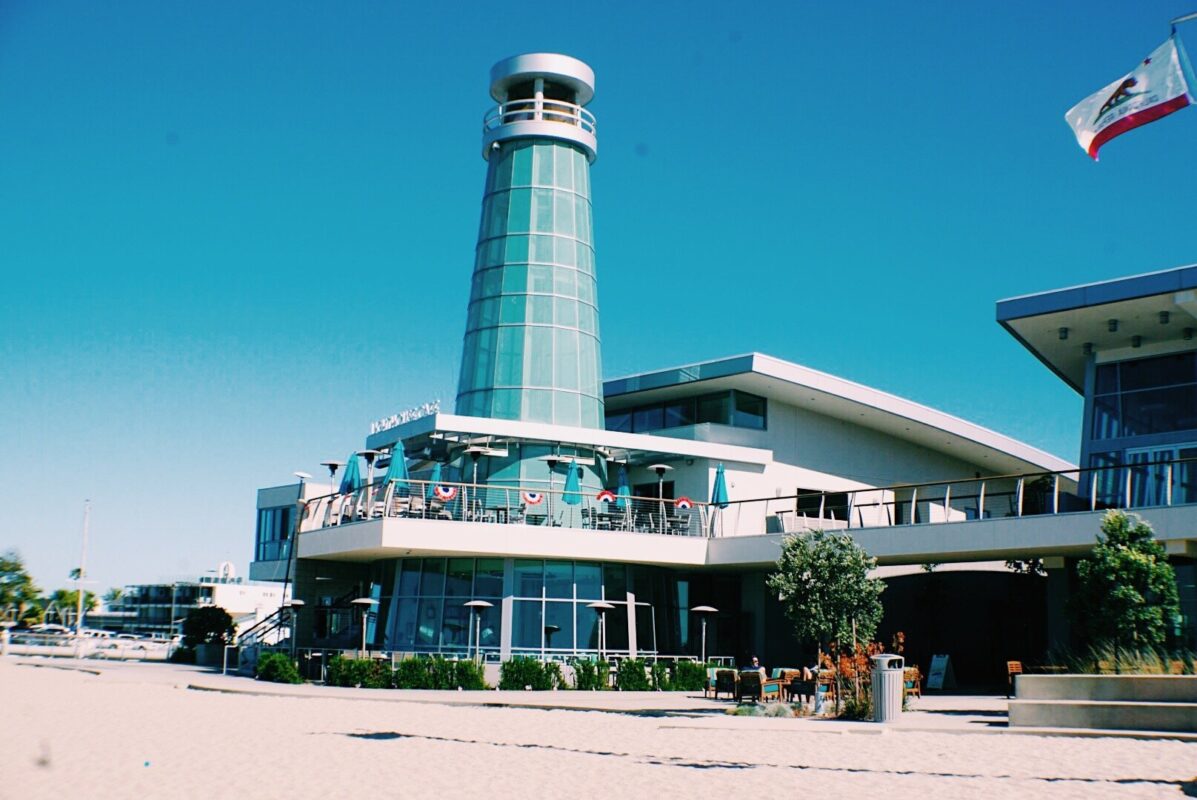 Every day from 8am to 4pm
The Lighthouse Bayview Cafe is a special hidden gem located on Balboa Island. Not only is this restaurant absolutely charming, but the menu is equally as magnificent as the ocean views. During our visit here, we discovered that the restaurant looks just like a real lighthouse! Their brunch menu is well-rounded with great cuisine and cocktail options. The Lighthouse Bayview Cafe offers classic breakfast options like avocado toast and brioche French toast, but their menu also includes plenty of seafood. Highlights include their Newport nachos, Lighthouse benedict, Bayside omelet, and Lighthouse burger. They even have a mimosa brunch which is $16 per person.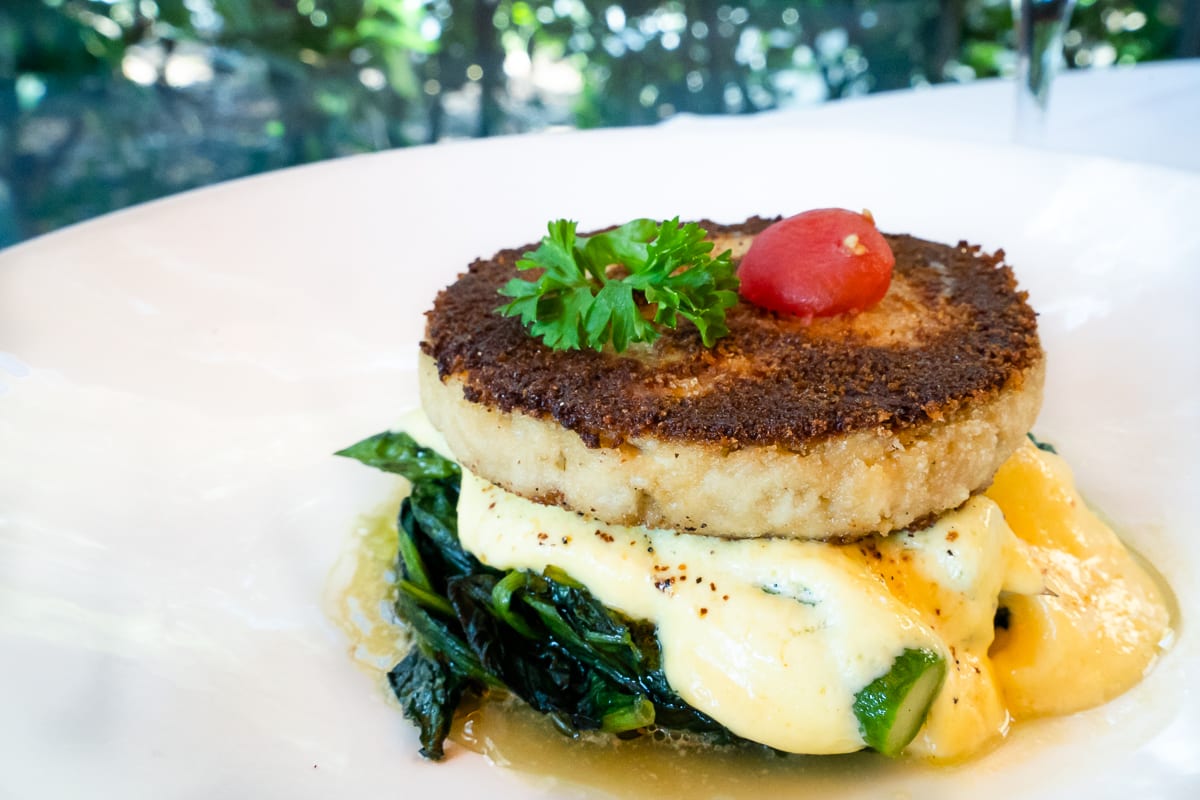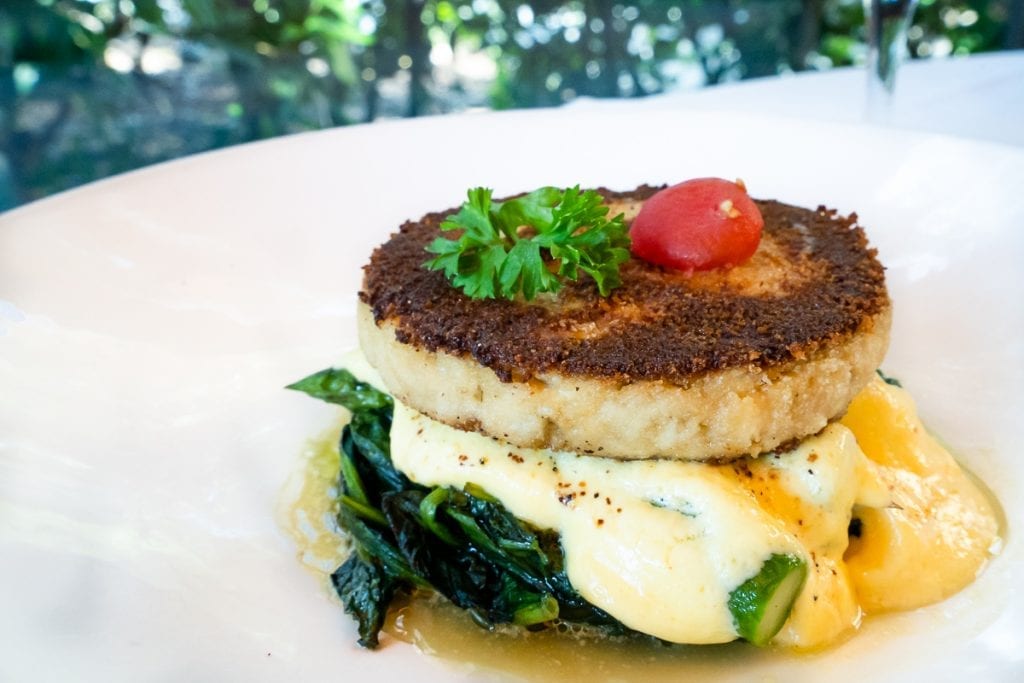 Sundays from 11am to 4pm
With an amazing view of the harbor and subtle sounds of a live saxophone played to all your favorite tunes, this is the perfect place for the most relaxing brunch. Oh, and did I mention that Bayside offers a fantastic benedict? The griddle crab cake florentine, pictured above, comes with fresh wilted spinach, citrus hollandaise, and asparagus. Bayside also offers other delicious benedicts, like their Canadian and smoked salmon benedict. We loved our experience at Bayside's brunch in Newport Beach. They even offer bottomless champagne that is so delicious it doesn't even need the OJ!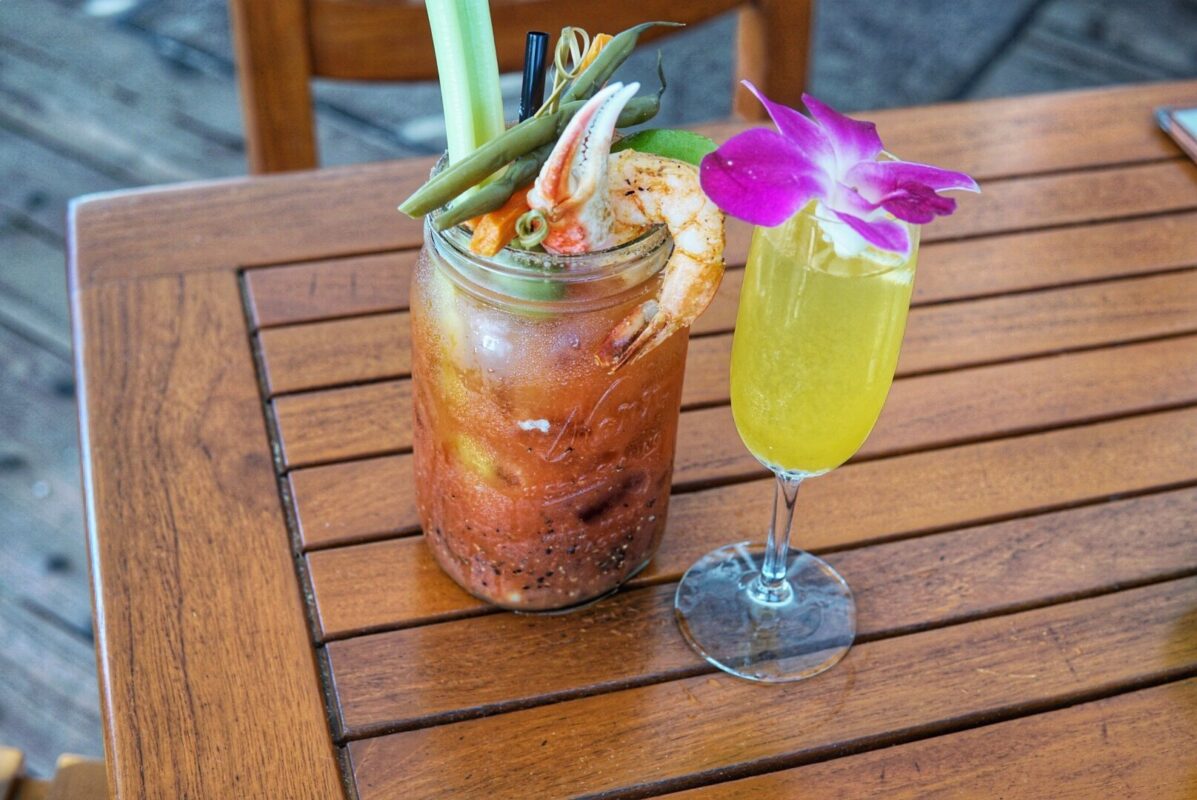 Breakfast from 7am to 11:30am; Lunch from 11:30 to 4:30pm
Beachcomber Cafe is easily the most unique restaurant for brunch in Newport Beach. It's literally located on the beach sands, where we enjoyed a delicious meal accompanied by the sound of crashing waves. In fact, Beachcomber is so elusive you have to take a shuttle just to dine there. One of their most impressive menu items is their bloody mary which comes with a huge crab claw. I absolutely love bloody marys, so Beachcomber definitely impresses with their version!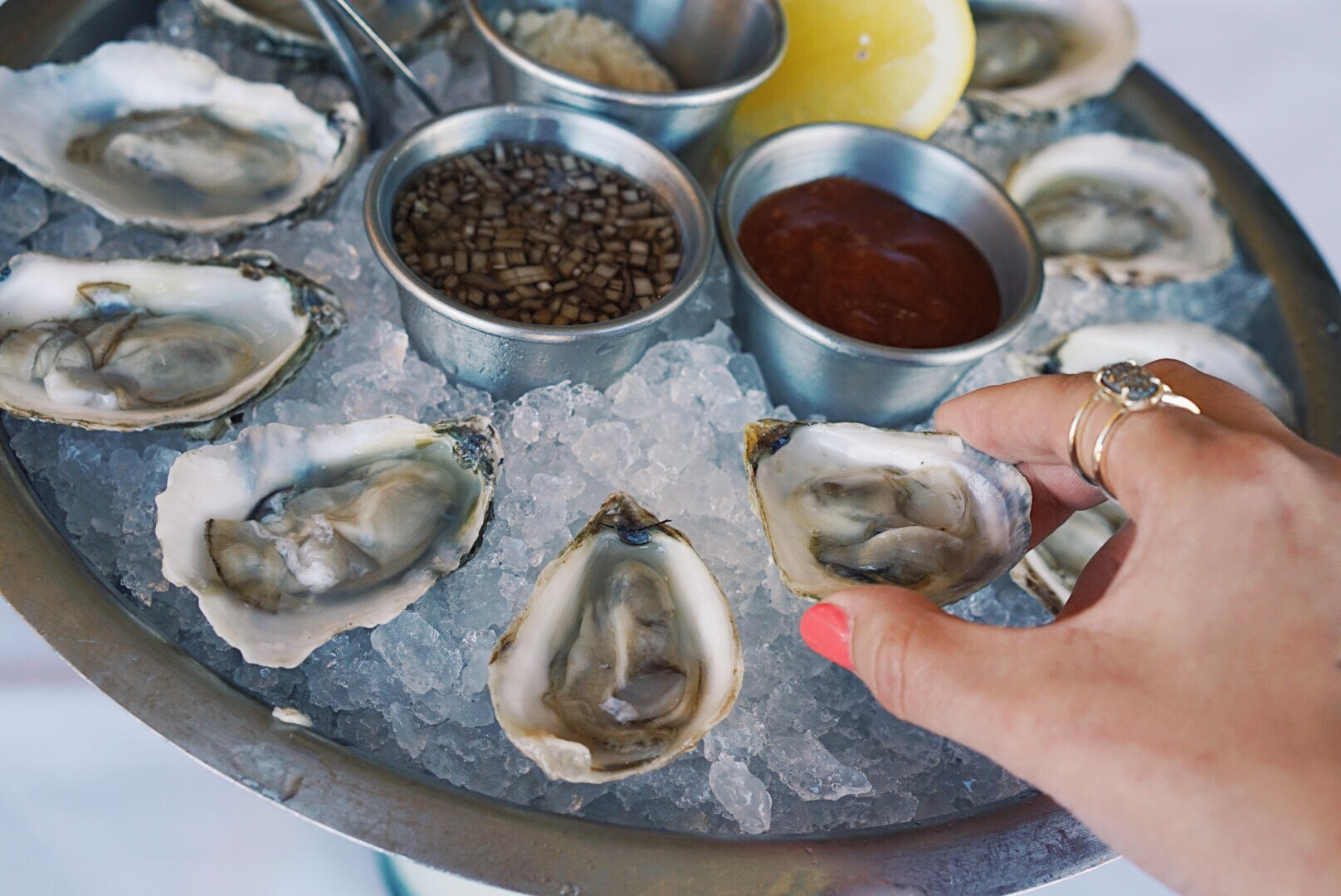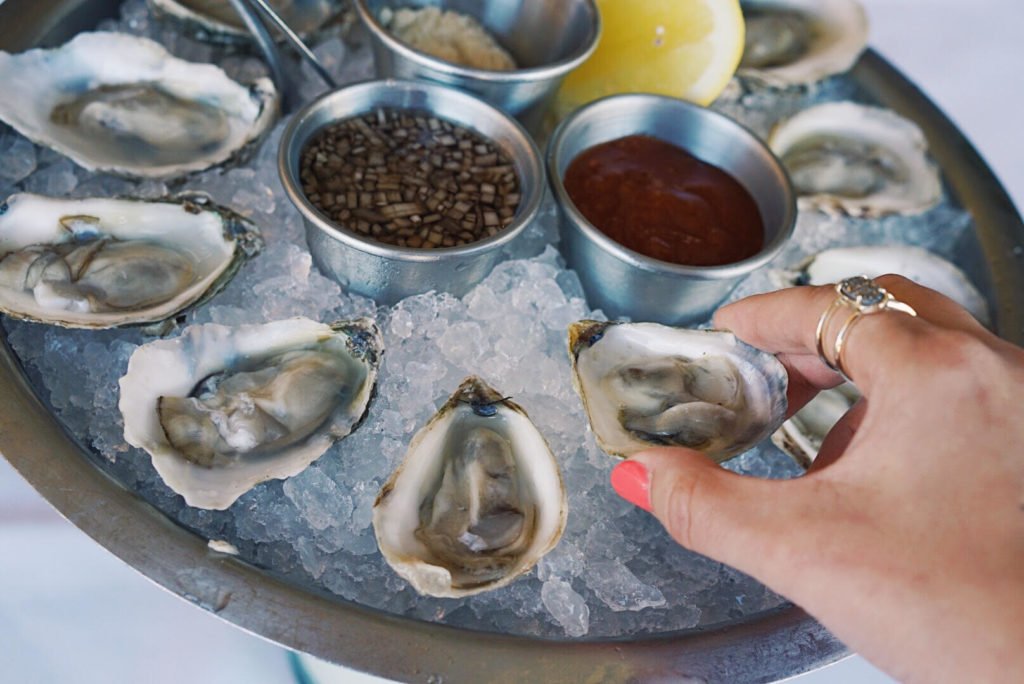 6. The Cannery
Sundays from 11am to 3pm
At The Cannery, you can look out onto the Newport Bay and enjoy a coastal outdoor brunch on their expansive patio. I have found some of the freshest oysters in all of Orange County here, which keeps me coming back to The Cannery over and over again. If oysters aren't your thing then you will definitely want to try their grilled Hawaiian prawns which are equally as delicious as they are beautiful. They are placed in whiskey barrel aged soy sauce and Thai chilies making this dish a serious winner. If you're looking for an elegant and beautiful place to dine, check out The Cannery for an amazing Sunday brunch in Newport Beach.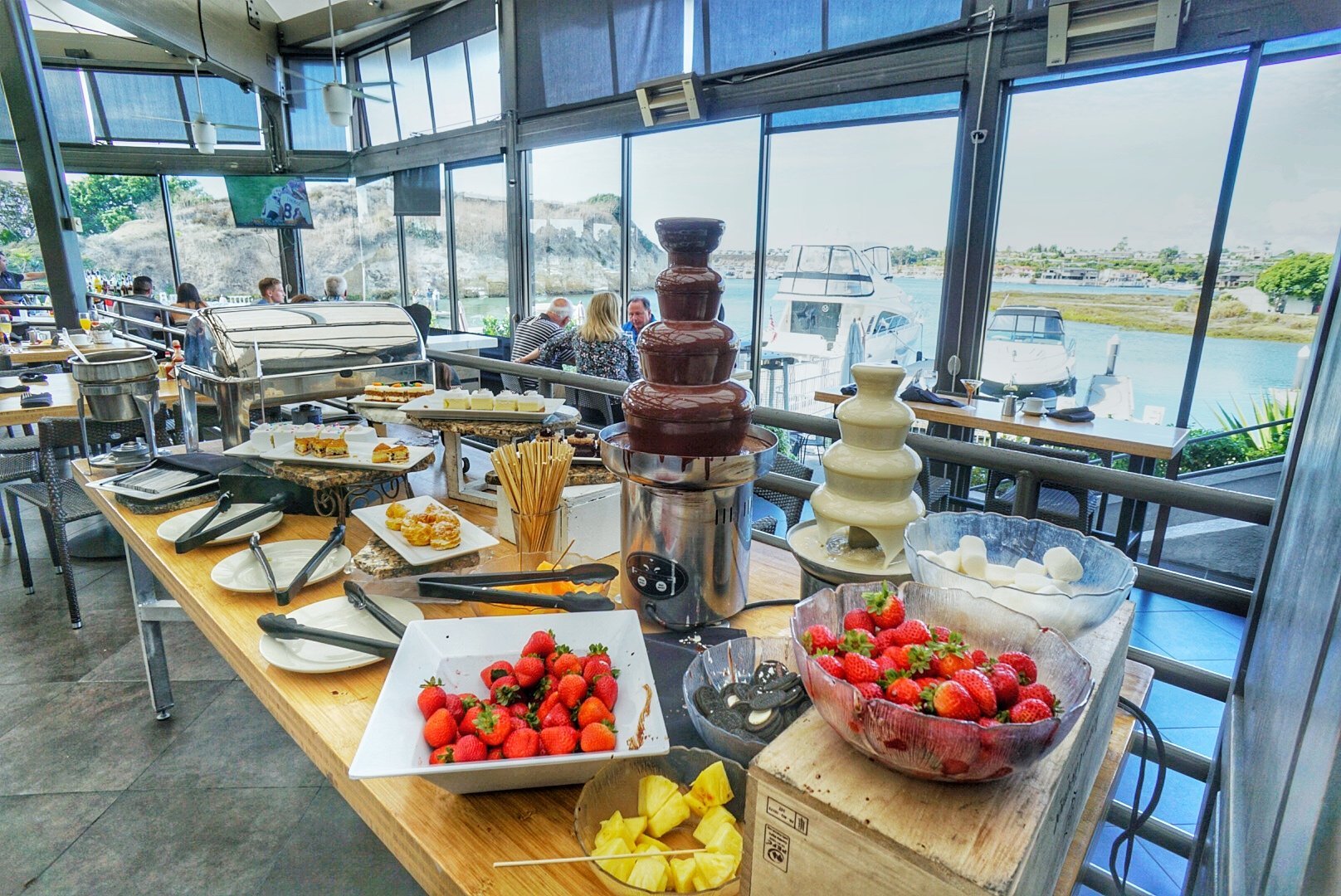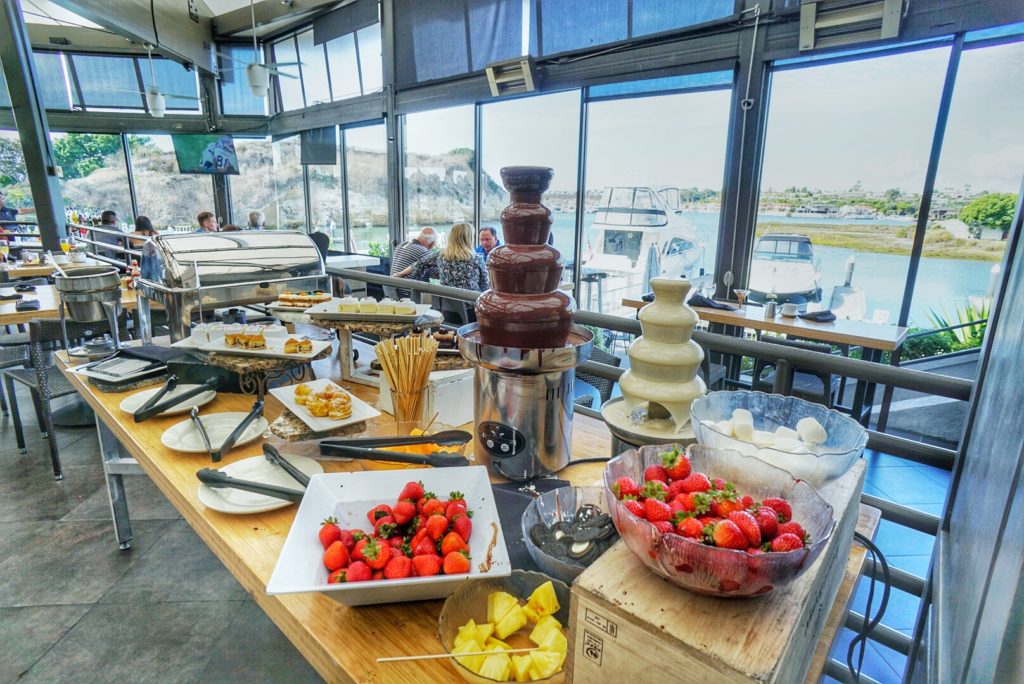 Sundays from 10am to 2pm
Located with a bay view, Balboa Bay Resort's, Back Bay Bistro, enticed us to stay all day… or at least until 2pm. In addition to an amazing view, guests will enjoy a menu filled with unlimited access to pastries, fresh seafood, and assorted cheeses. Not convinced yet? Let's not forget their complimentary champagne and mimosas!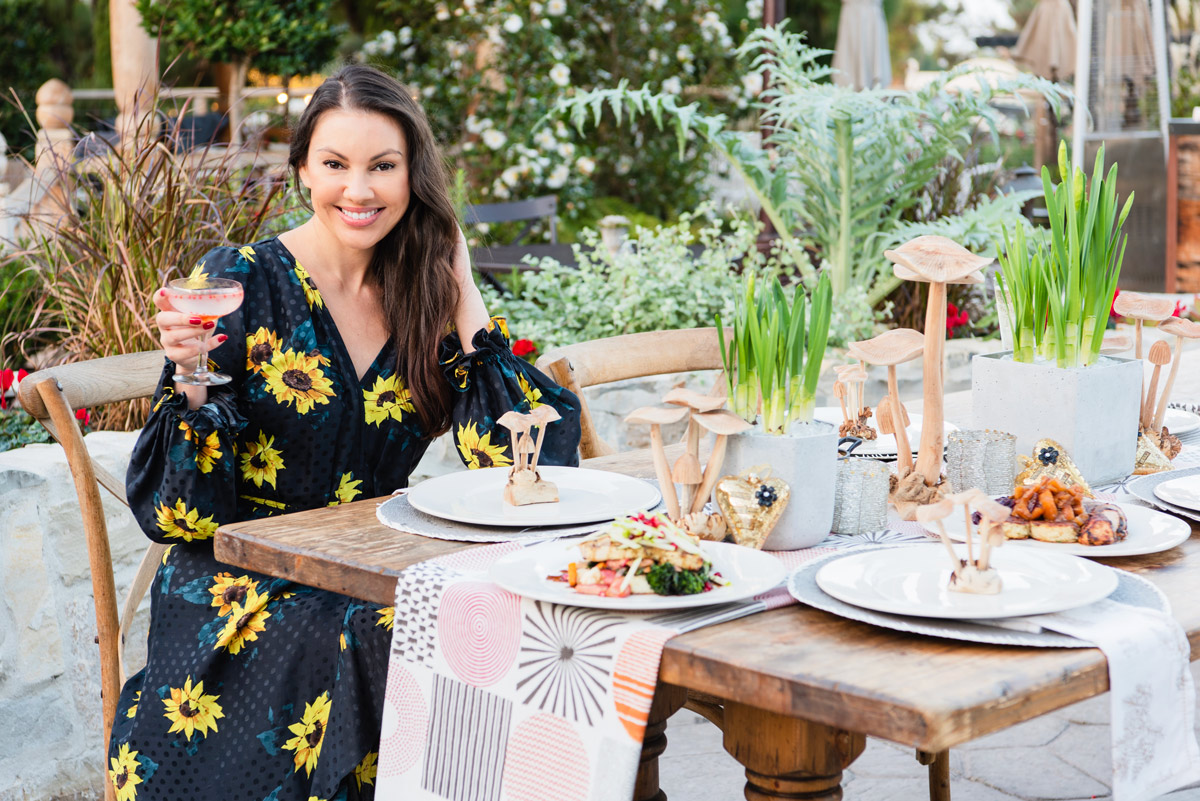 8. Farmhouse at Roger's Garden
Sundays from 11am to 2pm
The fresh farm to table cuisine prepared by Chef Richard Mead coupled with the beautiful garden surroundings of Rogers Garden creates a one-of-a-kind dining experience. A few years ago, I even created a beautiful tablescape to add to the unique ambiance. If you're planning to shop for some new roses and herbs for your garden, I recommend enjoying a delicious brunch at Farmhouse first! Their Sunday brunch menu includes delicious dishes like seasonal French toast, frittata, and even a specialized Farmhouse bloody mary. Reservations are highly recommended for Farmhouse.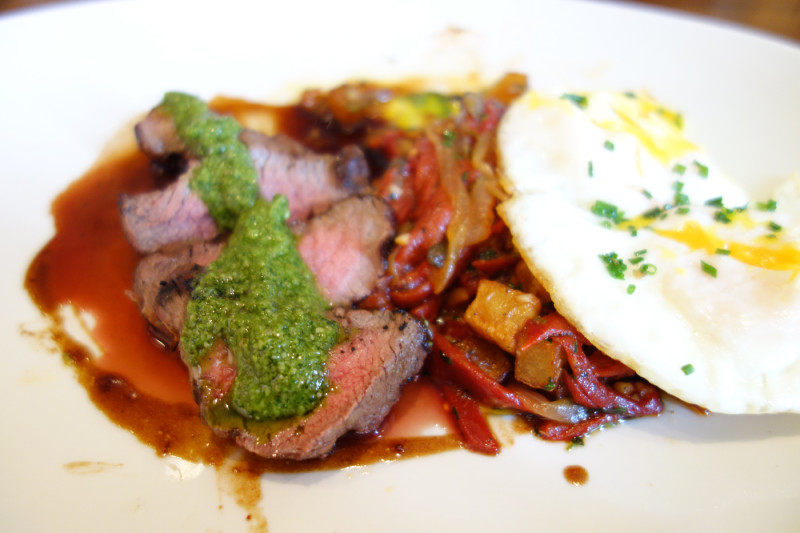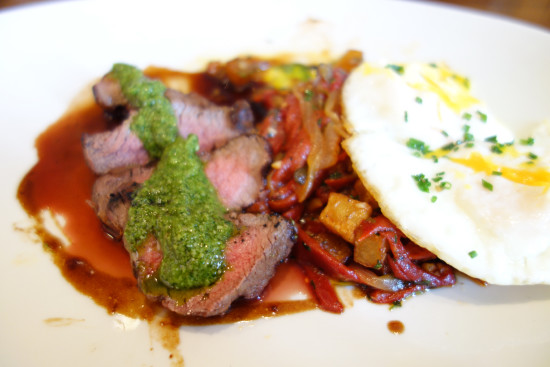 Sundays from 11am to 3pm
Cucina Enoteca's menu brings fabulous and unique brunch dishes to guests. I'd definitely recommend this restaurant to anyone who loves trying new foods. Their menu has changed since our last visit, but one of their most notable dishes is their polenta poutine. This comes with a fried egg, spicy sausage gravy, mushroom, sweet pepper, and arugula. And if you want to see how Cucina has captured brunch in a single dish, check out their Calabrian sausage, egg, potato, avocado, and ricotta salsa pizza. It's the perfect combination of breakfast and lunch!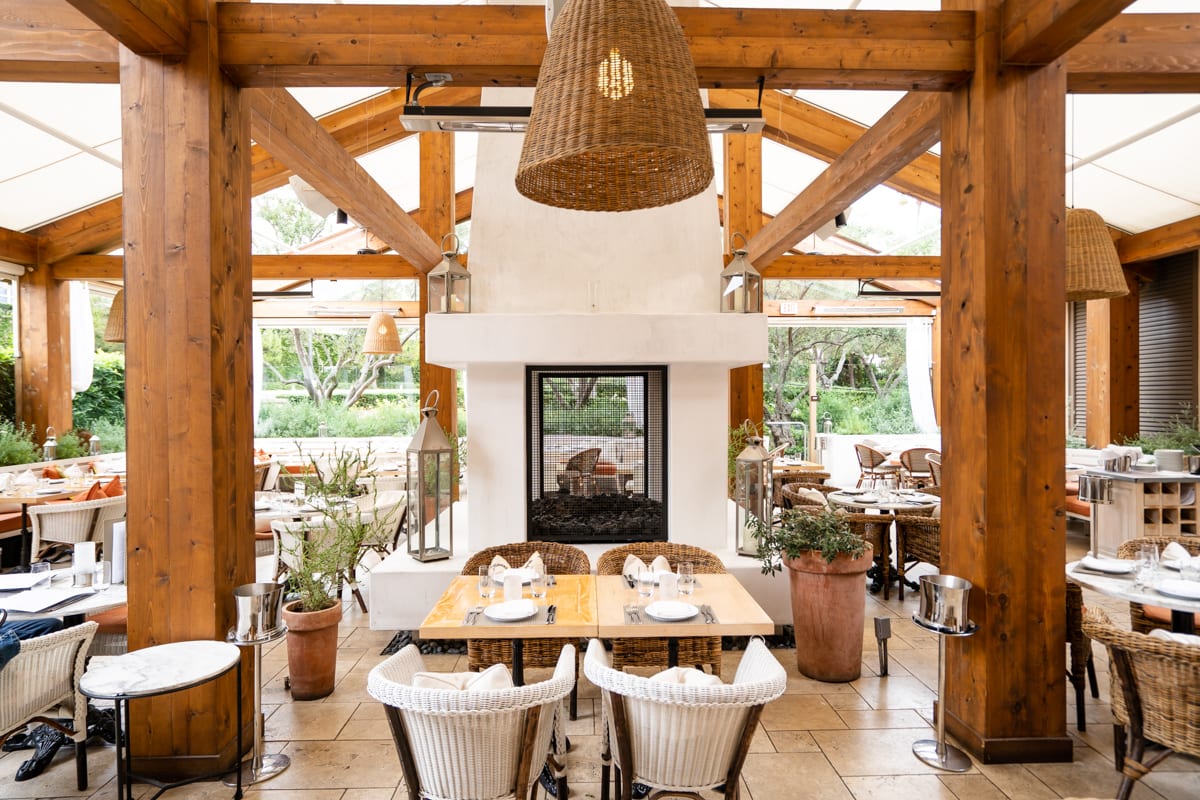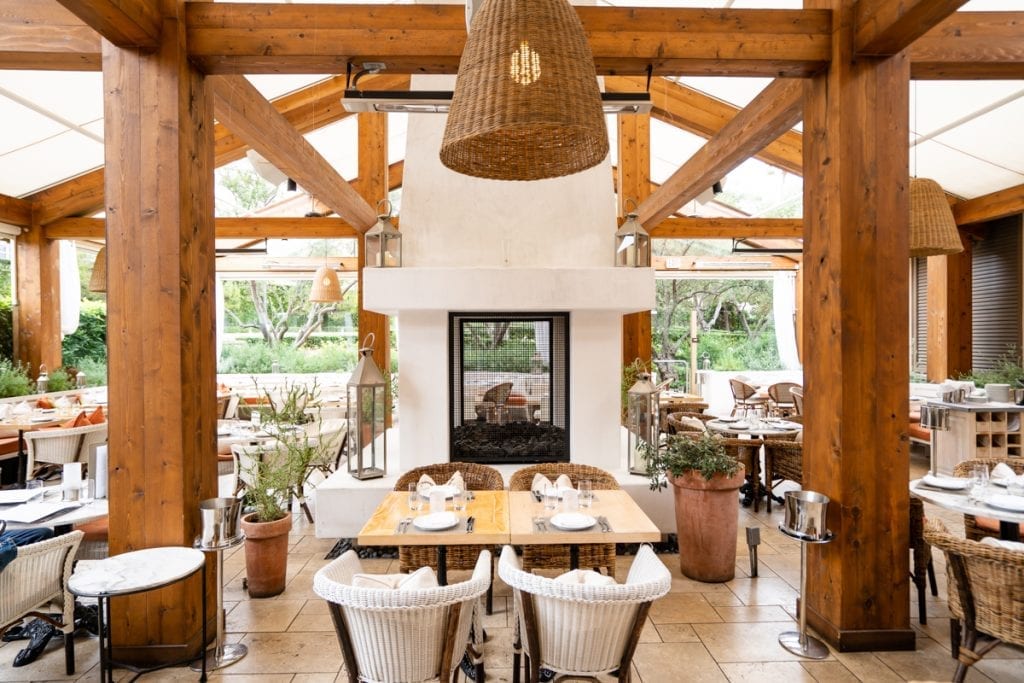 10. Fig and Olive
Saturdays and Sundays from 12pm to 4pm
We've honorably mentioned this wonderful brunch spot before, and now we're recommending it again! Located in Newport Beach's popular Fashion Island, Fig and Olive offers exquisite brunch options. Your tastebuds will definitely be whisked away into food heaven by fabulous dishes like the Mediterranean baked eggs, avocado and pea toast, and even Spanish octopus.
Sorry for making you so hungry. Now go make those reservations for an amazing brunch in Newport Beach!